Oct 23 2012
SiTime's Unique Digitally Controlled Oscillators (DCXOs) Replace Quartz VCXOs in Telecom and Embedded Applications
Download:
汉语
漢語
한국어
日本語
SiT3907 Offers In-System Digital Control Interface to Enable Simpler, Higher Performance and More Reliable Systems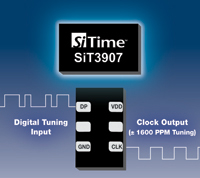 SUNNYVALE, Calif. – October 24, 2012 – SiTime Corporation, an analog semiconductor company that is revolutionizing the timing market, today introduced the SiT3907 MEMS-based Digitally Controlled Oscillator (DCXO). The SiT3907 DCXO is radically different than analog, quartz-based VCXOs as it offers an in-system digital control interface that is used for tuning the output frequency. This unique feature, along with 100 times better linearity and 8 times better pull range than quartz VCXOs, improves performance and enables simpler, more reliable systems. The SiT3907 is fully programmable to accelerate development. Samples are shipped in 48 hours and production quantities are available with three weeks lead time. The SiT3907 DCXO is targeted at telecom, networking, video, audio and embedded applications.
"SiTime's innovative MEMS technology and analog expertise is leading the revolution in the timing industry," said Piyush Sevalia, executive vice president of marketing at SiTime. "For decades, the quartz industry has offered VCXOs with no new features. Our customers requested an all-digital control interface that simplified their design and improved performance. We listened, and used our semiconductor expertise to quickly deliver this new feature. This is a great example of how SiTime is changing the game in the timing industry."
The SiT3907 DCXO offers many new features and benefits that are not available from quartz VCXOs. They are listed below.
New - 1-wire digital interface for easy, low-noise, and dynamic in-system frequency control. Quartz VCXOs use an analog interface that requires an external DAC in the control path and generates additional system noise.
New - Best linearity at less than 0.1%. Typical quartz VCXOs are limited to 10% linearity.
New - Widest pull range from ±25 to ±1600 PPM with 1 PPB resolution for flexible, in-system calibration. Quartz VCXOs are limited to ±200 PPM pull range.
New - Programmable drive strength for best EMI reduction. This feature is not available in quartz VCXOs.
New - Industry-leading frequency stability as low as ± 10 PPM for enhanced system reliability. Typical quartz VCXOs are only available in ± 25 - 50 PPM stabilities.
New - LVCMOS output, programmable for any frequency between 1 and 220 MHz with best-in-class 6 decimal places of accuracy. Quartz VCXOs offer selected, fixed frequencies only.
New - Samples of customized devices are shipped in 48 hours and production quantities are available in 3 to 5 weeks. Customization of quartz VCXOs requires NREs and 12 to 18 week lead times.
New - Outstanding reliability of 500 million hours MTBF, which is up to 15 times better than quartz VCXOs.
New - 50,000 g shock and 70 g vibration resistance which is 30 times better than quartz VCXOs.
Industrial (-40 to +85 °C) and commercial temperature (-20 to +70 °C) operation.
1.8V and 2.5 to 3.3V operation.
Available in 4-pin 3225 and 6-pin 5032 and 7050 packages.
The SiT3907 is in production now. Pricing is available upon request.
SiT3907 datasheet: http://www.sitime.com/sites/default/files/gated/SiT3907-datasheet.pdf
About SiTime
SiTime Corporation, an analog semiconductor company, offers MEMS-based silicon timing solutions that replace legacy quartz products. With 80% market share and over 120 million devices shipped, SiTime is driving the $6 Billion timing market's transition to 100% silicon-based timing.
SiTime's configurable solutions enable customers to differentiate their products with higher performance, reduced size and better reliability. The rich feature set and flexibility of our solutions allows customers to consolidate their supply-chain, reducing cost of ownership and time to market. By using standard semiconductor processes and high volume plastic packaging, SiTime offers the best availability and shortest lead times in the industry.
Top-tier manufacturers are experiencing these benefits and recognize SiTime as The Smart Timing Choice™.
News Release in 140 characters
#SiTime introduces digitally controlled oscillators #DCXOs for telecom and embedded applications
#SiTime's SiT3907 DCXO offers 100X better performance than legacy quartz #VCXOs
#SiTime offers high performance #DCXO to replace quartz VCXOs with in-system control
###