Top of Rack Switch / Leaf Switch

IEEE 1588 is becoming the de facto standard for better performance in data centers. As Synchronous Ethernet (SyncE) replaces Ethernet, use of a TCXO or OCXO reference clock in top-of-rack and leaf switch is needed. SiTime offers a complete MEMS-based clock tree solution that performs better in real-world operating conditions.
Elite Platform® Super-TCXOs® and Emerald OCXOs provide essential stability and reduce time error through better frequency over temperature slope. Cascade™ network synchronizers / jitter cleaners / clock generators, used to filter jitter in recovered clocks, have an integrated resonator that simplifies development and reduces field failures. When SyncE and IEEE 1588 are not needed, SiTime differential oscillators offer sub-100-femtosecond jitter and low power. Together they offer a complete and robust clock tree.
SiTime MEMS Timing Benefits
Complete MEMS clock tree

Integrated MEMS

Stratum 3E MEMS OCXO

MEMS clock IC/PLL

More robust in real world conditions

4x better dF/dT for best time sync

70 fs rms jitter, excellent PSNR

Resistant to airflow, heat, vibration

Integrated MEMS, easy to use

No external quartz

No quartz reliability issues

No cover or shielding needed
MEMS Timing Solutions with SyncE and IEEE 1588

MEMS Timing Solutions without SyncE and IEEE 1588
MEMS XO + Buffer Alternative Timing Solution
MEMS Timing Solutions
Devices
Function
Frequency
Key Features
SiT535x Super-TCXOs
Reference clock for jitter cleaner and IEEE1588
1 to 220 MHz
±100 ppb, ±1 ppb/°C 105°C
SiT57xx OCXOs
1 to 60 MHz
±5 ppb, ±0.04 ppb/°C
SiT9514x Clock Generator
Ethernet
8 kHz to 2.1GHz
4-in, 11-out, 4-PLL
SiT9514x Network synchronizer, Jitter cleaner
Ethernet, processor
8 kHz to 2.1GHz
4-in, 11-out, 4-PLL

SiT9501 Differential XO

SiT9375 Differential XO

Ethernet, FPGA
1 to 725 MHz
0.07 to 0.25 ps jitter, 105°
Data Center Architecture
A leaf switch (or top-of-rack ToR switch) aggregates server traffic between the spine switches and either the core network or servers in the data-center campus. As bandwidth increases in next-gen deployments, higher performance is specified by IEEE 1588, placing a greater demand for high-performance timing solutions that withstand airflow, heat, and vibration.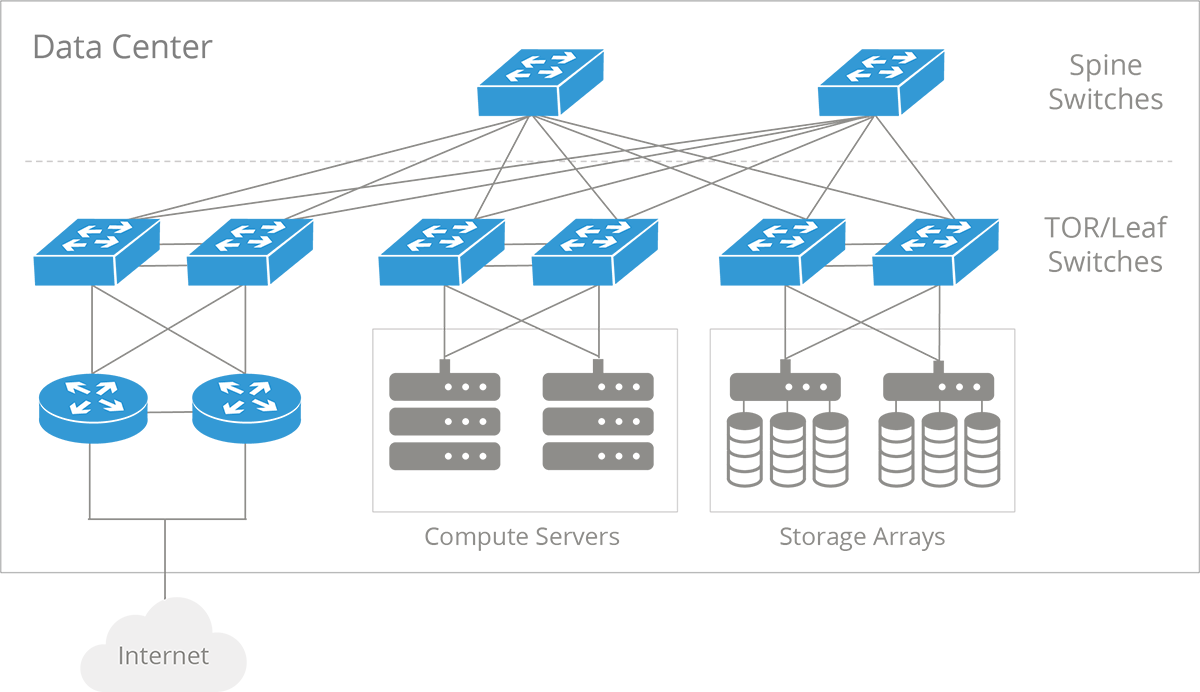 MEMS Timing Outperforms Quartz
| Better Stability | Better Frequency Slope |
| --- | --- |
|   |   |
| Better Vibration Resistance | Better Allan Deviation |
|   |   |
| Excellent Phase Noise, 156.25 MHz | Better PSNR (Power Supply Noise Rejection) |
|   |   |
Watch Video: SiTime Elite Super-TCXO Dynamic Performance vs. Quartz TCXO
Application Notes and Papers

Enter your email address to stay informed!