Microwave Outdoor Units (ODU)

Long haul microwave equipment is typically installed in uncontrolled environments and remote areas. The timing components used in these deployments must provide high frequency stability and low phase noise, while withstanding vibration, wide operating temperatures, and fast temperature transients. SiTime MEMS precision oscillators and clocks provide the robustness and long-term reliability (high MTBF) needed for microwave equipment.
SiTime MEMS Timing Benefits for RU/AAU/mMIMO
Complete MEMS clock tree

Precision MEMS Super-TCXO

Stratum 3E MEMS OCXO

MEMS clock-system on a chip / PLL

More robust in real world conditions

4x better dF/dT for best IEEE 1588/eCPRI

Resistant to airflow, heat, vibration

Graceful degradation up to 125°C

Thin profile, easy to use, reliable

No external quartz

No quartz reliability issues

No cover or shielding needed
Full ODU

Split-mount ODU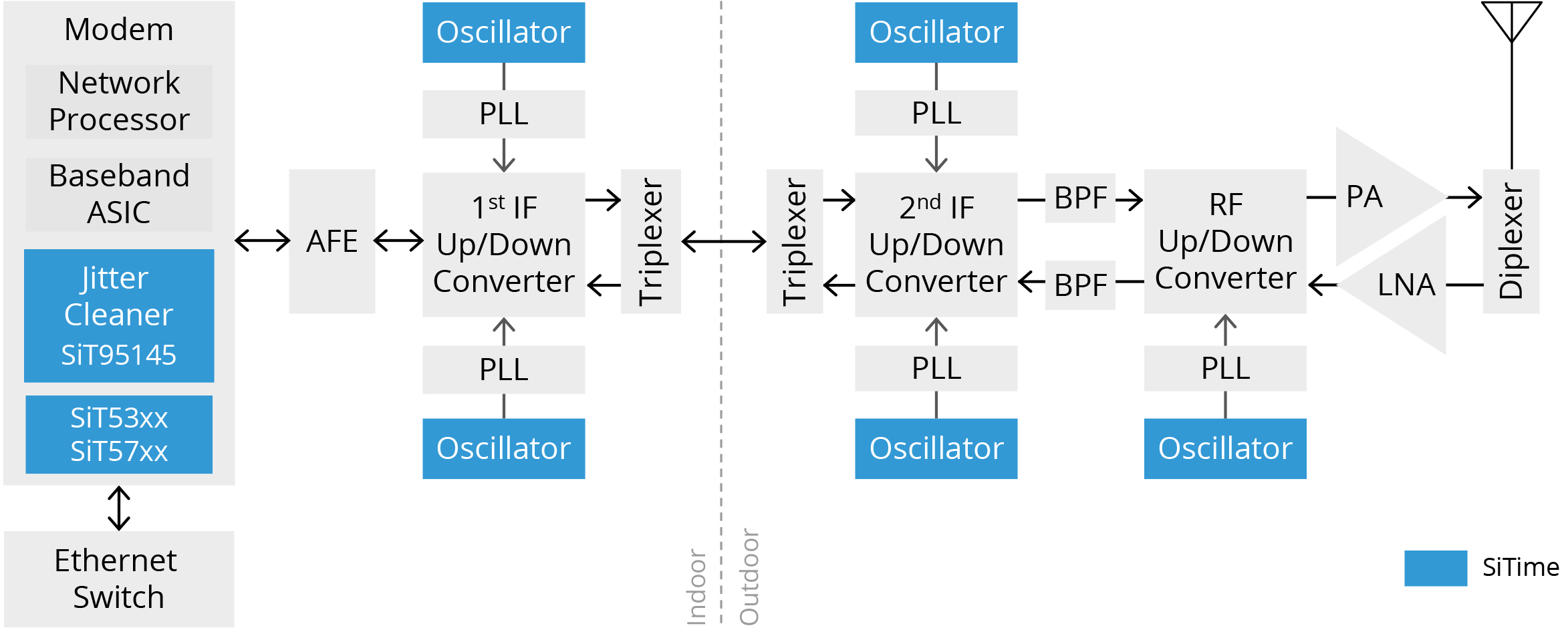 MEMS Timing Solutions for ODU
Devices
Function
Frequency
Key Features
SiT535x Super-TCXOs
Reference clock for jitter cleaner and IEEE1588
1 to 220 MHz
±100 ppb, ±1 ppb/°C 105°C
SiT57xx OCXOs
1 to 60 MHz
±5 ppb, ±0.04 ppb/°C
SiT9514x Network synchronizer, Jitter cleaner
Ethernet, PCIe, processor & IEEE1588 clocking
8 kHz to 2.1GHz
4-in, 11-out, 4-PLL
MEMS Timing Outperforms Quartz
| Better Stability | Better Frequency Slope |
| --- | --- |
|   |   |
| Better Vibration Resistance | Better Aging |
|   |   |
| Better Allan Deviation | Better PSNR (Power Supply Noise Rejection) |
|   |   |
Watch Video: SiTime Elite Super-TCXO Dynamic Performance vs. Quartz TCXO
Application Notes and Papers
Videos

Enter your email address to stay informed!