Modern infotainment/cluster applications rely on multiple displays, use various interfaces such as USB, PCI-Express and Ethernet, and are increasingly integrated with other domains within the vehicle. As a result, more clocks are needed, with additional requirements such as extended temperature range, high reliability, low jitter, and low power.
SiTime MEMS oscillators offer low jitter, higher accuracy over temp from -55 to 125°C, reliability up to 50x better than quartz crystal devices, and unique EMI features – all in a small package. Our solutions have excellent stability during rapid temperature change (dF/dT) and are resilient against shock and vibration.
SiTime MEMS Timing Benefits
Complete MEMS clock tree

Spread spectrum oscillators

Low jitter diff. oscillators

32.768-kHz XOs and TCXOs

Precision TCXOs

Most robust in real world conditions

150 fs rms jitter1, excellent PSNR

PCIe Gen 4-5 and 10 GB Ethernet

Resistant to shock and vibration

±25/±30 ppm over -40 to 125°C

>1 billion hours MTBF

Integrated MEMS, easy to use

No external quartz needed

No quartz reliability issues

Reliable startup in cold temp

No cover or shielding needed

Short lead time for any frequency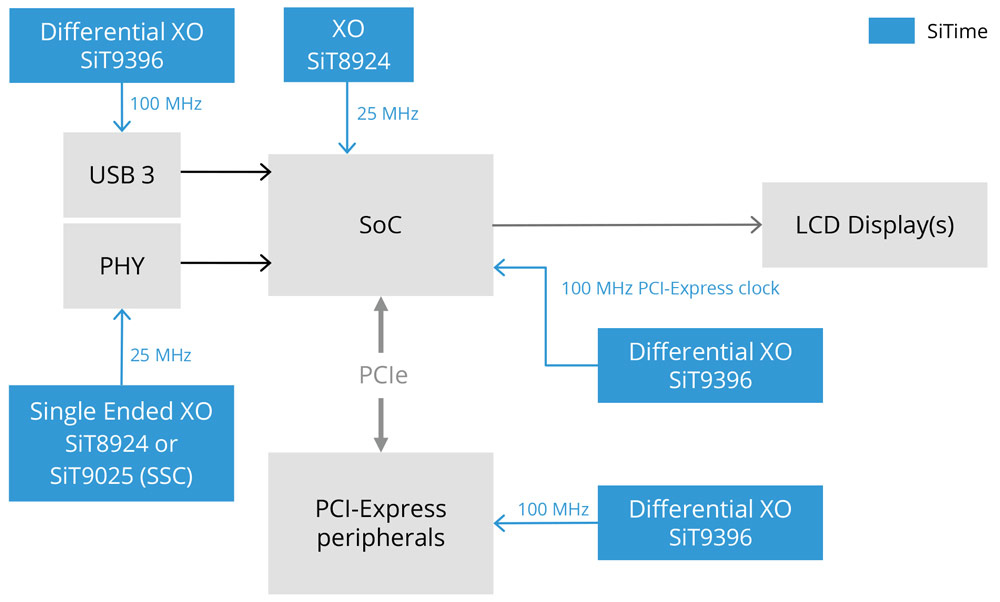 MEMS Timing Solutions for Infotainment/Cluster
Devices
Function
Key Features
SiT9025 Spread spectrum XO (SSXO)
Processor, SoC and general-purpose clocking

Valid clock output signal

1 to 150 MHz, -55°C to +125°C

Spread spectrum up to 17 dB reduction

SiT5386 Super-TCXO
Reference clock for RTC and IEEE 1588/TSN
1 to 220 MHz, ±100 ppb, ±1 ppb/°C, 105°C
SiT16301 32.768 kHz XO
Reference clock for RTC and safety functions

1 µA, 2.0 x 1.2 mm package

< ±100 ppm accuracy over -40 to +105°C

SiT9386 Differential XO

SiT9387 Differential XO

Ethernet, PCI-Express, SerDes / PHY clocking
1 MHz to 725 MHz, 70 to 200 fs jitter2, 105°C
1 Contact SiTime for AEC-Q100 version
2 RMS phase jitter, integrated over 12 kHz to 20 MHz
MEMS Timing Outperforms Quartz
| Higher Quality | Higher Reliability |
| --- | --- |
|   |   |
| Tighter Stability | Better EMI Reduction |
|   |   |
| Immune to Vibration | Better Noise Rejection |
| | |

Enter your email address to stay informed!