Fixed Wireless Access (FWA)
FWA (fixed wireless access) can provide a faster 5G rollout and improved ROI as it is integrated into existing 4G/LTE infrastructure, to deliver higher bandwidth and faster speed to fiber and other fixed internet lines. SiTime MEMS-based timing solutions are enabling this transition with precision products that offer better stability over temperature, higher reliability, smaller form factors and lower power compared to legacy quartz products.
SiTime MEMS Timing Benefits
Complete clock tree

Clock system-on-a-chip

Super-TCXOs

Low-jitter differential oscillators

Accurate and robust

Resistant to heat, airflow, vibration

4x better dF/dT (temp slope)

Graceful degradation up to 125°C

Easy to use, built to last

No quartz reliability issues

>1 billion hour MTBF

No cover or shielding needed

 
5G FWA (fixed wireless access) provides ultra-high bandwidth to deliver heavy content at significantly faster speeds and at a lower cost to fiber and other fixed internet lines. While a seamless shift from traditional networks to 5G front and back haul is difficult to achieve due the large existing investment by the telecom operators in their 4G/LTE infrastructure, some companies are choosing to integrate 5G FWA fronthaul equipment with their 4G/LTE backhaul for a faster rollout and improved ROI.
The preferred mmWaveband being deployed by most carriers is sub-6 GHz or the C-band, specifically 3.3 GHz to 4.2 GHz range as it covers a radius of more than 5 km and supports a maximum throughput of 5 Gbps.
Key reasons for 5G FWA growth are:
Reduced connectivity costs: wireless infrastructure is lower cost than fixed wired infrastructure.
Faster speeds: 300 Mbps internet access is being touted with the expectation of reaching 1Gbps.
Lower latency: 5G offers very low latency making it ideal for environments requiring dependable connectivity.
Lower energy use: 5G uses less energy to connect and transmit than alternative options.
Fixed Wireless Access (FWA) Block Diagram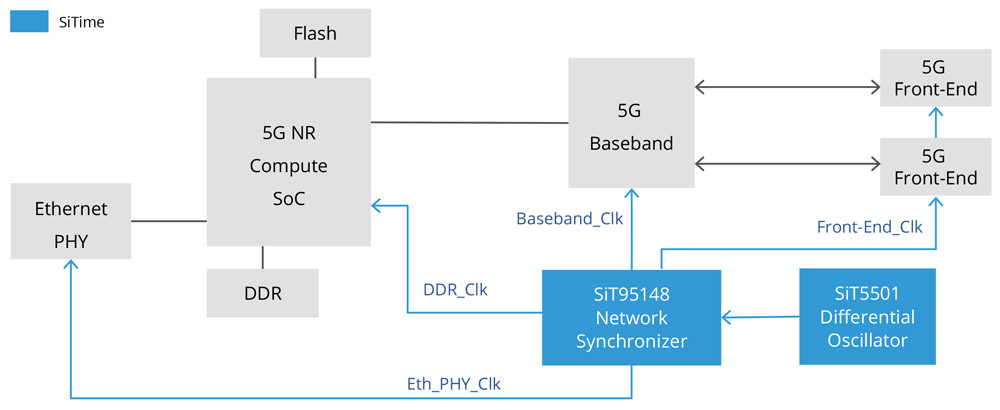 MEMS Timing for Fixed Wireless Access (FWA)
Devices
Key Features
Key Values

Network Synchronizer

4 inputs, 11 outputs
Up to 2 GHz clock output frequencies
120 fs integrated phase jitter [1]
Programmable PLL loop bandwidth, 1 mHz to 4 KHz
Digital frequency control
-40°C to +85°C
9.0 x 9.0 mm package

Multiple clock domains, multiple clock outputs enables complex clock architectures
10x more resistant to vibration and board bending

Super-TCXO

SiT5501 [2]

  1 to 60 MHz

±10 ppb stability
±0.5 ppb/°C
2x10-11 Allan deviation
-40°C to 105°C
7.0 x 5.0 mm package

Ensures QoS requirements are met in telecom equipment in hostile environments

Differential Oscillators

SiT9375  

25 to 644.5 MHz, 70 fs Integrated Phase Jitter

[1]

SiT9501  

25 to 644.5 MHz, 150 fs Integrated Phase Jitter

[1]

±20 ppm to ±50 ppm frequency stability
LVPECL, LVDS, HCSL
1.8 V to 3.3 V
-40°C to 105°C
2.0 x 1.6 mm, 2.5 x 2.0 mm, 3.2 x 2.5 mm packages

Meets demanding jitter requirements
Small PCB footprint, easier layout
Easy design due to flexibility
MEMS reliability

Clock Generator

SiT91211 [3]  1 to 750 MHz, 200 fs Integrated Phase Jitter [1]

SiT91213 [3]  1 to 750 MHz, 90 fs Integrated Phase Jitter [1]

4 differential output clocks
±20 ppm frequency stability
LVDS, LVPECL, LPHCSL
0.01 ps/mV PSRR
-40°C to 105°C
4 mm x 4 mm package

Simplifies clock tree design with multiple low jitter clocks
Programmable clocks add flexibility to complex clocking architectures
Better frequency stability and noise immunity in harsh environments
Small PCB footprint, compact layout
SiTime Advantages
SiTime devices offer the following advantages over quartz crystals, which are particularly important for telecom applications:
SiT9514x family of synchronizer devices offer a complete synchronization clock tree on a chip. No external crystal is required.
dF/dT, in other words the effect of temperature variations on frequency stability, is 4x better than crystal-based TCXOs. This ensures better Quality of Service under airflow, heating, and cooling conditions.
Silicon MEMS TCXO offer similar stability as crystal-based OCXO, in a smaller form factor and lower power.
SiTime oscillators are factory programmable to any frequency.
Silicon MEMS-based timing devices have 30x better reliability than quartz.
No activity dip or cold start issues.
MEMS Timing Outperforms Quartz
Better Allan Deviation

Better Vibration Resistance

Image

 

Image

 

Ultra-Low Phase Noise, 156.25 MHz

Smallest Packages

Image

Image

Enter your email address to stay informed!