PCI Express in Automotive Applications

PCI Express® (PCIe) is one of the preferred high-speed interfaces in automotive electronic systems. Reliable and robust timing solutions with well-controlled jitter are needed to avoid transmission errors on the bus. SiTime MEMS timing solutions easily meet the jitter requirements for PCIe, and with margin to spare. They also provide high reliability and robustness, excellent stability and EMI reduction.
SiTime MEMS Timing Benefits
Complete MEMS clock tree

Spread spectrum oscillators

Low jitter differential oscillators

32.768-kHz XOs and TCXOs

Precision TCXOs

Most robust in real world conditions

150 fs rms jitter, excellent PSNR

Resistant to shock and vibration

Stable over wide temperature

2.2 billion hours MTBF

Integrated MEMS, easy to use

No quartz reliability issues

Reliable startup in cold temp

No cover or shielding needed

Short lead time for any frequency
The growing demand for AD (automated driving) and ADAS (advanced driver assistance system) features in modern vehicles is driving an increase in the number and complexity of automotive electronic systems. The increasing amount of data generated by numerous sensors require computing power. Often, a single SoC is insufficient to handle the task and coprocessors are used. PCI Express is one of the interfaces commonly used to connect these components.
PCI Express (PCIe) is a point-to-point serial interface created in 2003, originally for the computing industry. It is a bidirectional bus, based on a pair of unidirectional lanes (one in each direction). Up to 16 lanes can be aggregated in parallel to increase transfer rate. The transfer rate per lane evolved from 2.5 GT/S (GTransfer/s) with a rate of 250 MB/s per lane in PCIe Gen 1, to 64 GT/s with a rate of 7.56 GB/s in PCIe Gen 6. PCIe Gen 4 is widely used in automotive systems currently. Gen 4 features 16 GT/s, with a rate of 1.97 GB/s per lane.
Block diagram of Automotive ECU, featuring one PCIe interface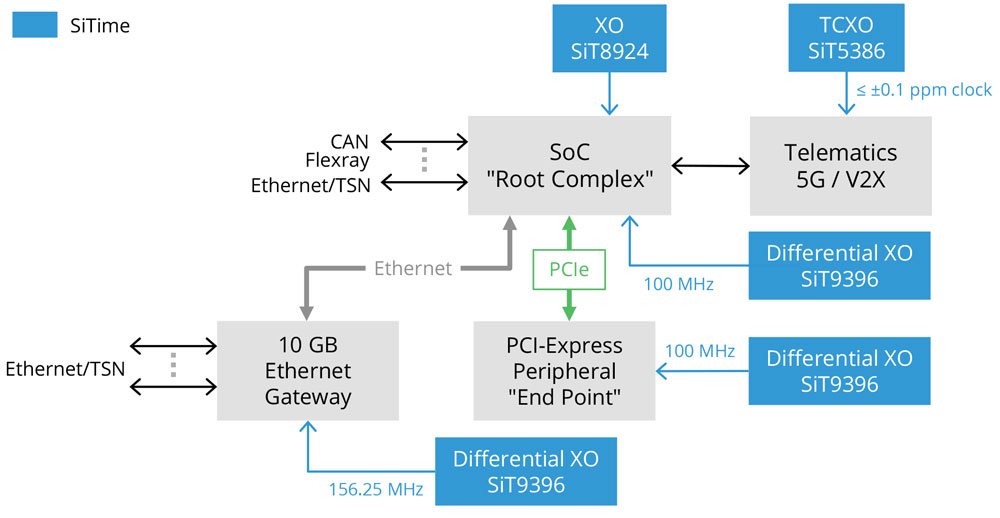 PCIe Clocking
The PCIe interface requires a 100-MHz clock at each end of a bus. Several parameters need to be considered:
Clock tree architecture: common clock or separate references
Jitter, depending on the PCIe generation
Signaling type: HCSL or LP-HCSL
Spread spectrum for EMI reduction
Frequency accuracy
See our PCI Express Automotive Timing Solutions white paper for more information on jitter limits for PCIe generation, use of HCSL and LP-HCSL, spread spectrum clocking relating to PCIe, and PCIe clocking architectures.
MEMS Timing for PCI Express in Automotive Applications​
Devices
Key Features
Key Values

Differential oscillator

SiT9396  

1 to 220 MHz

±30, ±50 ppm stability
LVPECL, LVDS, HCSL, Low-power HCSL, FlexSwing™
-40°C to +125°C
2016, 2520, 3225 packages

High reliability
Enables interfaces with demanding jitter requirements, such as PCI-Express and 10 GB Ethernet
Supports PCIe Gen 1 to Gen 6

Clock Generator

1 to 1000 MHz

4 and 8 output options
±30, ±50 ppm stability
LVPECL, LVDS, HCSL, Low-power HCSL, FlexSwing™
Spread Spectrum
-40°C to +125°C
4x4, 5x5 and 6x6 mm packages

Same as above, plus:

Integration: generates PCIe as well as other clocks in the system
No external resonator needed
Please contact SiTime for information on advanced features and product availability
SiTime Advantages
Supports PCIe Gen 1 to 6; supports common clock, SRNS, and SRIS architectures.
Clock generators feature an internal MEMS resonator and do not require an external reference.
Silicon MEMS clock generators remove the "weak link" represented by crystal resonators. A MEMS resonator is 50x more reliable than crystal.
The excellent reliability (< 0.5 FIT, < 0.1 DPPM) of SiTime devices makes them ideal for use in automotive and functional safety applications.
Up to 10x better resilience to shock and vibration than crystal-based devices. Shock and particularly vibration in crystals can increase the jitter of generated clocks, therefore increasing the bit error rate (BER) on a PCIe link. Shock and vibration in crystals can also create frequency micro jumps and activity dips, which degrade BER. SiTime devices are free of these problems.
MEMS Timing Outperforms Quartz
| Higher Quality | Higher Reliability |
| --- | --- |
| Image | Image |
| Immune to Vibration | Better Noise Rejection |
| --- | --- |
| Image | Image |
| Tighter Stability | Better EMI Reduction |
| --- | --- |
| Image | Image |

Enter your email address to stay informed!