Standard Frequency, High Temperature Oscillator
The SiT1618B is available in 33 standard frequencies and two temperature ranges (ext. industrial and automotive). This device features ±20 ppm stability, super small 2.0 x 1.6 mm package (4 other packages available), 3.6 mA low power consumption, and best-in-class shock and vibration.
The SiT1618 is 100% compatible with quartz devices in footprint, therefore replaces quartz without any design changes.
For a similar device in a SOT23-5 package, refer to the SiT2018B SOT23 oscillator.
Program oscillators to get instant samples, optimized performance, and fast prototyping | Learn More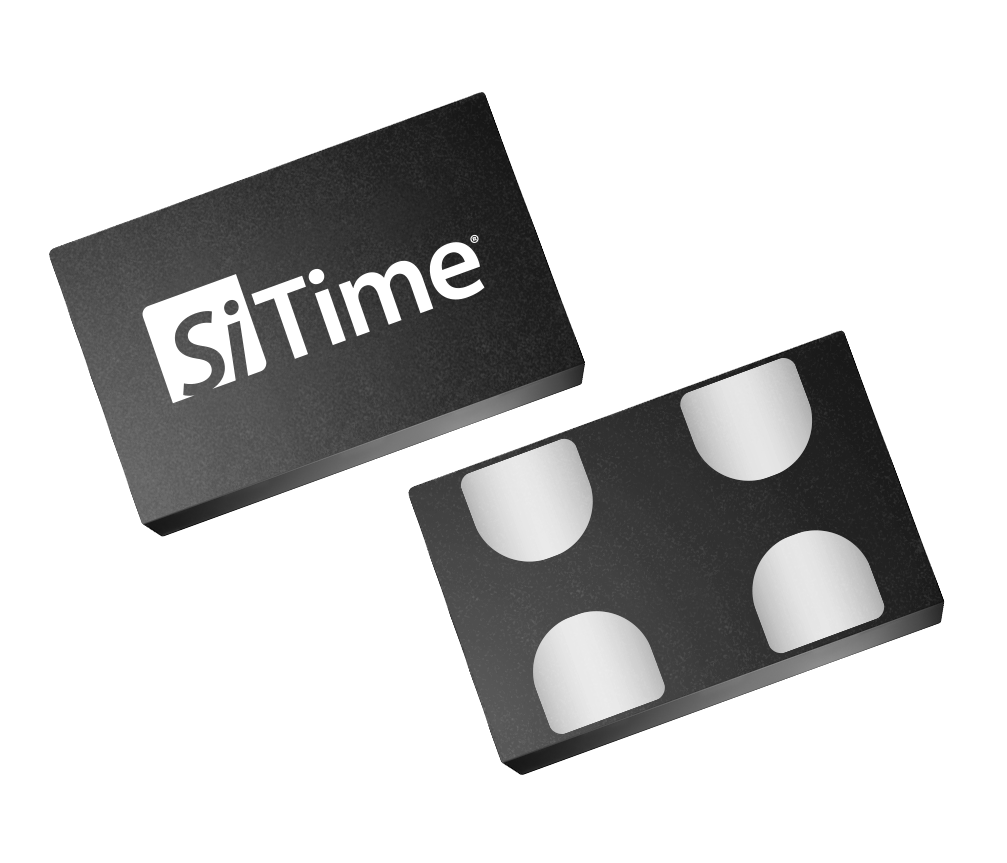 | | |
| --- | --- |
| Oscillator Type | XO-SE |
| Frequency | 33 standard frequencies |
| Frequency Stability (ppm) | ±20, ±25, ±50 |
| Operating Temperature Range (°C) | -40 to +105, -40 to +125 |
| Output type | LVCMOS |
| Package Type (mm²) | 2.0x1.6, 2.5x2.0, 3.2x2.5, 5.0x3.2, 7.0x5.0 |
| Phase Jitter (RMS) | 1.3 ps |
| Features | Field programmable, High temperature 125°C |
| Voltage Supply (V) | 1.8, 2.5 to 3.3 |
| FlexEdgeTM Rise/Fall Time | Yes |
| Availability | Production |
enlarge

Five industry standard footprints as small as 2016 for all frequencies, voltages, and stabilities

enlarge

SiT1618 pin assignments with programmable pin 1 that can be set to Output Enable, Standby, or No Connect to optimize power consumption

enlarge

Configurable FlexEdge drive strength reduces EMI by slowing rise/fall time – for example the 11th clock harmonic is reduced by 35 dB by increasing the rise/fall edge from 5% to 45% of the period
±20 ppm over automotive temp. (-40 to 125 °C)
Better timing margin ideal for outdoor and high-temp. operating environment
Configurable feature sets
33 standard frequencies
1.8 V or 2.5 V to 3.3 V supply voltage:
Customize specification for optimal system performance
Use same base device for many designs reducing qualification needs
0.1 ppb/g low g-sensitivity
Improved system performance under vibration
Carrier drop-test compliance (STB, etc.)
70 g vibration and 50,000 g shock
Best system reliability in harsh environments
Few product failures
FlexEdge™ drive strength
Slower rise/fall time that minimizes EMI from the oscillator
Lower cost by driving multiple loads and eliminate additional timing components
5 industry-standard packages
100% drop-in replacement of quartz VCXO
Ultra-fast lead time (4 to 6 weeks)
Reduce inventory overhead
Mitigate shortage risks
Engine & transmission ECUs
XTAL replacement
ADAS computer
Automotive cameras
Infotainment