Battery Management System

Battery management systems (BMSs) are used to monitor and protect a rechargeable battery cell or battery pack and are often used in harsh and noisy environments – from electric vehicles to industrial equipment. Safety and prevention of catastrophic failure is a primary concern in the design of BMS. Therefore, it is important for timing solutions used in BMSs to be robust and noise resistant.
SiTime MEMS timing products are built to operate reliably in extreme conditions, in high-current environments and over wide temperature ranges. Our timing solutions are both resilient to electromagnetic interference and have features to reduce system EMI.
BMS Block Diagram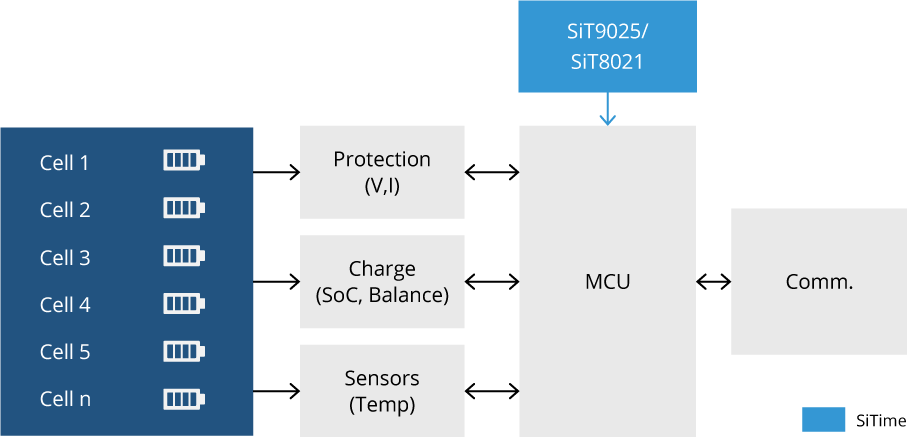 MEMS Timing Solutions for BMS
Product
Frequency
Key Features
Key Values
SiT8021 Low-Power Oscillator
1 to 26 MHz
1.5 x 0.8 mm package

Small device size
High reliability
Resilient to electromagnetic Interference, ideal for high-current environments

SiT9025 Spread Spectrum Oscillator
1 to 110 MHz
-55ºC to 125ºC operating temperature

System EMI reduction up to 17 dB
-55ºC to 125ºC Ambient Temp
High reliability
Resilient to electromagnetic Interference, ideal for high-current environments
What is a Battery Management System (BMS)?
A battery management system (BMS) is an electronic system that manages a rechargeable battery cell or battery pack and monitors its health. The primary function of a BMS to:
Authenticate
Protect the battery from operating outside its safe operating zone
Monitor the voltage, current, and temp during operation
Manage the SoC (State of Charge) and other variables during charging
Control its environment (temp, pressure)
Report these parameters to the central monitoring unit
Regardless of battery type (pouch or prismatic) or chemistry, a BMS is necessary to avoid catastrophic failure.
BMSs are offered in multiple topologies and sizes depending on use case.
Centralized: Single controller for multiple batteries. This is economical but causes increased weight and cost due to wiring
Distributed: A BMS for each cell. This is most expensive but easiest to install
Modular: A few controllers for a finite number of cells
BMS configurations are highly dependent on application and are different for mobile and stand-alone applications.
A BMS for EVs, industrial/military drones is a subsystem and tightly integrated to charging system, thermal and the communication sub-systems
A BMS for an uninterrupted power supply (UPS) or Industrial tools is standalone
Applications
Electric vehicles
E-Bikes, E-Scooters
Industrial / military drones
Industrial tools (mowers, blowers)
Uninterrupted power supply (UPS)
Energy storage system (ESS)
Autonomous vehicles for warehouse robotics, mining, underwater, etc.)

Enter your email address to stay informed!