Smart mirrors are replacing traditional mirrors because of the many advantages they offer. They rely on several building blocks that must be clocked with reliable timing solutions as video data is processed and transmitted. SiTime MEMS oscillators provide up to 50x better reliability compared to quartz products. Plus they offer resilience against shock and vibration, low jitter, higher accuracy over temp, and unique EMI features – all in a small package.
SiTime MEMS Timing Benefits
Complete MEMS clock tree

Spread spectrum oscillators

Low jitter differential oscillators

32.768-kHz XOs and TCXOs

Precision TCXOs

Most robust in real world conditions

150 fs rms jitter, excellent PSNR

Resistant to shock and vibration

Stable over wide temperature

2.2 billion hours MTBF

Integrated MEMS, easy to use

No quartz reliability issues

Reliable startup in cold temp

No cover or shielding needed

Short lead time for any frequency
Smart Mirrors Block Diagram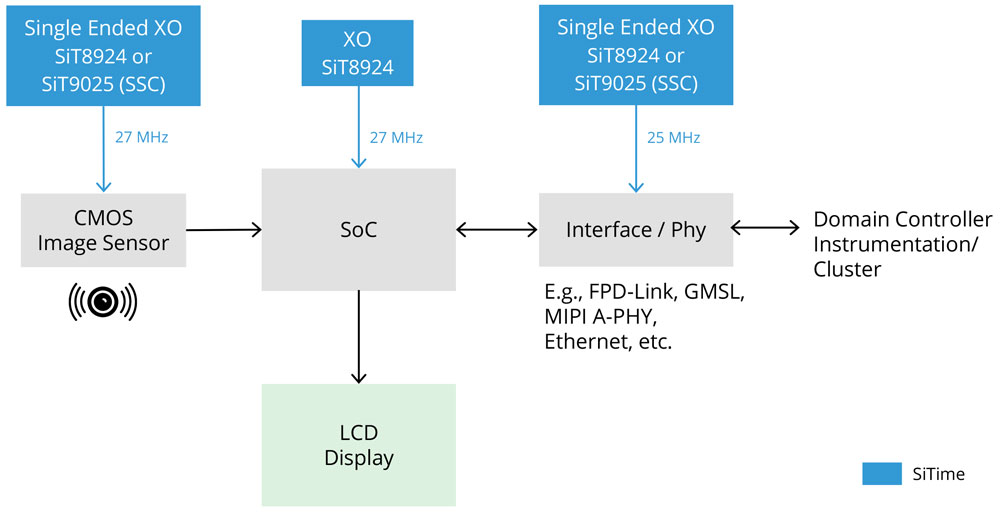 Smart mirrors replace traditional mirrors by displaying images from a camera onto an LCD display. The architecture of windshield-mounted rear-view "mirrors" can be different from side-view "mirrors.". In the former, the LCD is an integral part of the system, while the latter display the image on LCDs located elsewhere, on the instrumentation dashboard, or even in the doors.
Regardless of architecture differences, smart mirrors rely on several building blocks: an imager, a system-on-chip for processing, and one or more LCD displays. Interfaces are necessary to transmit or receive video data to/from other sources. Switching image sources – for instance from a camera mimicking a rear-view mirror in normal driving, to a close-up backup camera while maneuvering – provides real advantages to the driver but complexifies the architecture to some extent.
MEMS Timing Solutions for Smart Mirrors
Devices
Key Features
Key Values

Single-ended Oscillator

SiT8924  

1 to 110 MHz

Up to -55°C to +125°C
±20 ppm stability
2016, 2520, 3225 packages

High reliability
Extended temperature range
Small footprint

Single-ended Oscillator

SiT9025  

1 to 110 MHz

Up to -55°C to +125°C
Spread spectrum
Configurable rise / fall times
2016, 2520, 3225 packages

High reliability
Extended temperature range
EMI Reduction

Differential Oscillators

SiT9396  

1 to 220 MHz

SiT9397  

220 to 920 MHz

Low jitter: < 150 fs RMS [1]
±30, ±50 ppm stability over -40 to +125°C
LVPECL, LVDS, HCSL, Low-power HCSL, FlexSwing™
2016, 2520, 3225 packages

High reliability
Low jitter
Enables interfaces with demanding jitter requirements, such as PCI-Express and 10 GB Ethernet

Super-TCXOs

SiT5386  

1 to 60 MHz

SiT5387  

60 to 220 MHz

±0.1, ±0.2, ±0.25 ppm stability over -40 to +125°C
±1 ppb/°C frequency slope
Low jitter: 0.31 ps RMS [1]
Optional voltage or digital frequency control

High accuracy
Excellent frequency stability with fast temp gradients
No GNSS signal loss or V2X disconnect due to micro-jumps

32.768 kHz Oscillator

±20, ±50, ±100 ppm stability over -40 to +125°C
1.14 to 3.63 V supply
< 490 nA consumption
1.2 x 1.1 mm
< 115 ms startup time

Excellent stability
Low power
Small footprint
Faster start-up time 32.768 kHz tuning-fork crystals
High reliability for functional safety applications
1 12 kHz to 20 MHz integration range
Smart Mirror Clocks
Several clocks are typically needed in a smart mirror system.
CMOS imager clock: usually a single-ended clock, for instance 27 MHz
SoC clock: usually a single-ended clock, in the range 16 – 40 MHz
Interface / PHY clock: depending on the interface, either single-ended or differential: single-ended 25 MHz for GMSL, single-ended 27 MHz for FPD-Link, single-ended 25 MHz for Ethernet, differential 156.25 MHz for 16 GB Ethernet, etc.
Note that the exact clocks required depend on architecture and components used.
 
SiTime Advantages
SiTime devices offer the following advantages over quartz crystals, which are particularly important for automotive applications:
50x better reliability: Apart from reducing the amount of field failures, the better reliability translates into a lower FIT rate. This provides better hardware safety metrics in an FMEDA, the quantitative analysis required as part of a functional safety assessment.
10x better resilience to shock, vibration and electromagnetic interference, due to the smaller size (0.4 x 0.4 mm) and lower mass of MEMS resonators compared to crystals. When not causing permanent damage to the crystal, shock and vibration can induce jitter in a crystal oscillator. Jitter can be detrimental to the bit error rate of a high-speed link. The better resilience of SiTime oscillators ensures a low error rate regardless of operating conditions.
A typical requirement of clocks for data interface is: "the faster the interface, the lower the clock jitter.". The jitter of the clocks must be below a certain limit defined by the chipset manufacturer. SiTime devices offer state-of the art jitter performance.
Small footprint: Due to the small size of the silicon MEMS resonator, SiTime devices have a very small footprint – down to 1.2 x 1.1 mm. This is of advantage in space-constrained applications.
MEMS Timing Outperforms Quartz
| Higher Quality | Higher Reliability |
| --- | --- |
| Image | Image |
| Tighter Stability | Better EMI Reduction |
| --- | --- |
| Image | Image |
| Immune to Vibration | Better Noise Rejection |
| --- | --- |
| Image | Image |