Three signs you need a new timing partner
If you've experienced quartz, you've probably noticed that problems eventually arise. Quartz devices can be quite temperamental, especially in stressful conditions. And they're not the most reliable.
With MEMS timing, you no longer need to work around the difficulties of quartz. Here are three signs it's time to switch to MEMS.
1. You need more stability
If there is one thing you need from timing, its stability. MEMS timing solutions deliver better stability on every level.
Frequency stability – SiTime MHz and kHz oscillators have stability that is two times better* than quartz oscillators, and our Elite Super-TCXOs offer stability as good as

±

0.05 ppm
No activity dips or micro jumps – While quartz devices are susceptible to sudden frequency shifts, SiTime products are free of these anomalies which can cause system failure
Excellent aging – SiTime MEMS aging is two times better (over 10 years) because they are vacuum sealed, undergo virtually no hysteresis, and suffer very little fatigue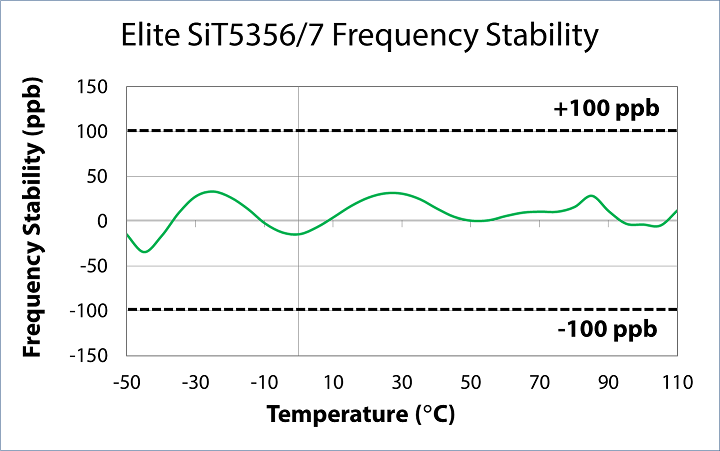 2. Bad things happen under stress
Tired of the ups and downs of quartz? SiTime products are built with groundbreaking technology that easily handles high temperature and rapid thermal gradients, high airflow, mechanical shock and vibration, power supply noise and electromagnetic interference (EMI).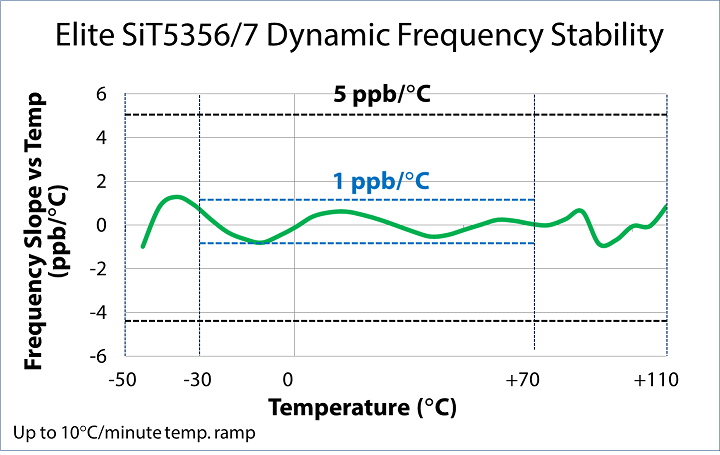 Elite Super-TCXOs feature excellent dynamic stability under dynamic conditions:
< 5 ppb

/

°

C frequency slope ΔF/ΔT at 10

°

C/min ramp

3e-11 ADEV at 10 second average time

0.1 ppb/g vibration immunity

0.2 ps/mV power supply noise rejection (PSNR)
3. You want a reliable partner
You can count on MEMS timing for the best quality and reliability. SiTime products are designed and produced using our robust 6-Sigma methods. Our processes combined with the small mass and unique design of our MEMS, advanced analog technology, and the superior quality of single crystal silicon, result in extremely durable and reliable products.
< 2 DPPM failure rate

–

which is among the best in the semiconductor industry and up to 100 times better than quartz devices that have typical failure rates of 50 to 150 DPPM

< 1 FIT rate

–

which translates to over 1 billion hours MTBF (mean time between failure) and is 30 times better than quartz
SiTime is also a dependable supply partner. Because our devices are made with silicon, we leverage the massive semiconductor industry and its immense capacity. Unlike quartz, we can easily scale and don't have a specialized and capital-intensive manufacturing supply chain. Plus, our products are built on a programmable architecture that enables millions of specification combinations. Customers can order any frequency, any supply voltage, any stability within a wide range. Samples are shipped within 24 hours and production quantities have very short lead-times.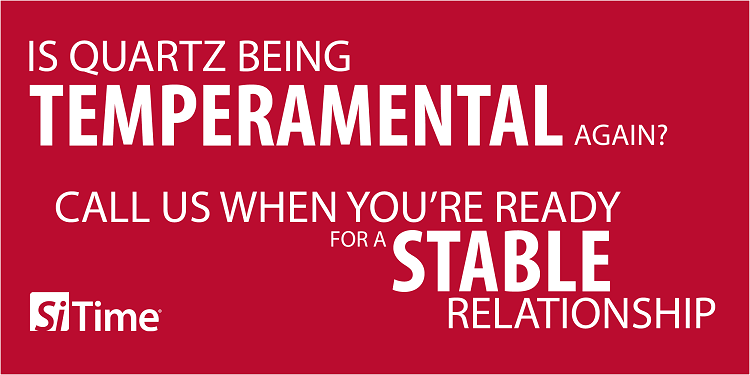 With MEMS, it's not complicated
MEMS oscillators are simply more stable, robust, and reliable. We've designed our products to solve the most difficult timing problems and overcome the limitations of quartz. If quartz products aren't delivering the performance, reliability or features you need, it's a sign to switch. Once you get to know MEMS timing, you'll never go back.
Try MEMS timing. Request a free sample or contact our sales team today.

-----------------------------
* SiTime MHz oscillator families have frequency stability as low as ±10 ppm, which is two times better than typical quartz oscillators with ±20 ppm.
* SiTime TempFlat™ MEMS 32 kHz devices have <10 ppm at 25°C (room temp) and <75 to 100 ppm over the entire industrial temperature range, while quartz crystals (XTALs) demonstrate 20 ppm variation at 25°C and -160 to -200 ppm over temp.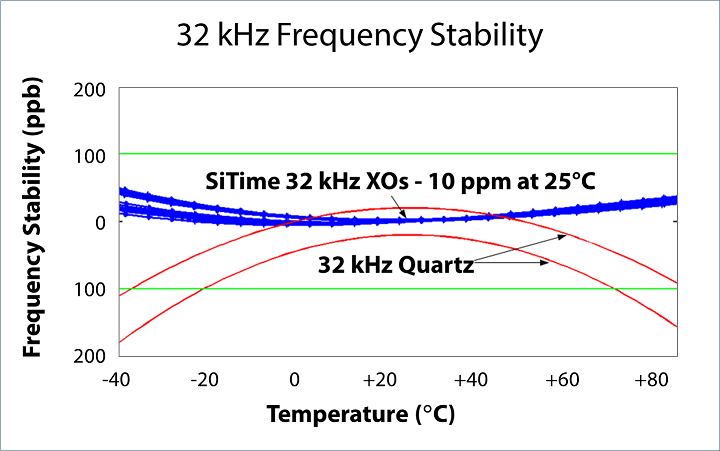 -----------------------------
Thanks to Lauren Lunsford for her contribution to the theme of this article.