Q&A: Piyush Sevalia Discusses the SiT9386/7 Differential Oscillators for ADAS
Designed for the best performance and robustness, the SiT9386 and SiT9387 oscillators are well-suited for automotive Ethernet and AI processors.
I sat down with Piyush Sevalia, executive vice president of marketing, to get the latest updates on SiTime's automotive portfolio and key industry trends.
Why should the automotive industry care about timing?
Timing is the heartbeat of any electronic device. If timing devices don't work correctly in an automobile, vehicle detection systems would fail to alert drivers, a truck's navigation system wouldn't work, and car windows wouldn't go up and down.
Soon, each automobile will have its own supercomputer to process the massive amount of data from sensors, radar, cameras, and controls. To ensure fast, reliable data processing, systems need good timing references that deliver the best reliability, perform superbly under environmental stressors like shock and vibration, and maintain their performance over time. That's exactly what SiTime offers, and that's how we are propelling the automotive industry forward in their development of driverless cars.
What makes MEMS timing ideal for automobiles?
Automotive systems are subject to some of the harshest environmental conditions. Vehicles are exposed to constant vibration, frequent shock, plus rapid and extreme temperature changes. These dynamic conditions have proven to be a challenge for traditional timing technologies. This is where MEMS (micro-electro mechanical systems) have a significant advantage. Due to their extremely small size and unique architectural advantages, MEMS are much more resilient than quartz resonators.
Tell us about SiTime's AEC-Q100 offerings for the ADAS market.
SiTime products will play a key role in ADAS applications, a market that is expected to reach $30 billion by 2020. Earlier this year, we introduced the SiT8924/5 LVCMOS oscillators, a family of ultra-robust MEMS timing devices for automotive systems including all-around cameras. The SiT9386/7 LVPECL/LVDS/HCSL oscillators are built for a different set of applications, specifically ADAS computing and automotive Ethernet applications. By adding them to our portfolio, we are able to solve the most difficult timing challenges for the automotive industry.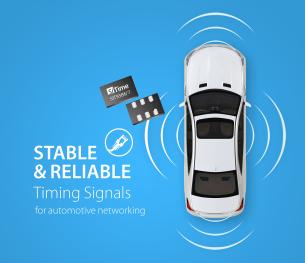 What makes the SiT9386/7 oscillators well suited for automotive supercomputers?
These applications require high performance and reliability. The SiT9386/7 oscillators combine best-in-class RMS phase jitter (<230 fs typ.), superior PSNR (0.02 ps/mV), and exceptional robustness. These products deliver the best shock resistance (10,000 g), the best vibration resistance (70 g), and the lowest vibration sensitivity (0.1 ppb/g).
How are automotive customers reacting to the SiT9386/7?
We've seen nothing but enthusiasm. Several customers are evaluating the SiT9386 and SiT9387 for their automotive applications, and they're seeing positive results in their systems. All in all, customers are extremely excited about our entrance into ADAS computing, as we're delivering a technology that no one else can deliver.
What is unique about the SiT9386/7 oscillators compared to other competitive offerings?
The SiT9386/7 oscillators are built on our Elite Platform™, a revolutionary DualMEMS™ architecture that delivers the most stable timing in harsh operating conditions. This platform combines our TempFlat MEMS™ technology with the world's most accurate temperature sensor, a proprietary temperature compensation scheme and a low-noise frequency synthesizer. The end result is exceptional dynamic performance with high stability and ultra-low jitter. Because of this platform, we expect to be a key player in the ADAS industry.