Custom Programming SiTime MEMS Oscillators at Digi-Key
Silicon MEMS (Micro-electro-mechanical systems) oscillators are increasingly becoming the timing solution of choice for designers wishing for their applications to meet higher quality standards. This goes beyond increased timing accuracy to developing products that don't wear out as early, can handle a wider variety of operating conditions, have a longer battery life, and are smaller in size. Thus far, SiTime is the leader in silicon-based timing solutions, commanding a 90% market share and having shipped well over a billion units.
MEMS Oscillators vs Quartz Crystal Resonators
Due to their design and construction, MEMS oscillators are inherently superior to traditional quartz crystal resonators. Beginning with a more standardized and less complicated manufacturing process, MEMS oscillators are introduced to fewer opportunities for contamination. This results in a 30 times better DPPM (defective parts per million) and MTBF (mean time between failures), i.e. better quality and reliability. They are also far more robust in the face of most environmental conditions. Because MEMS oscillators have no exposed PCB connections between the resonator and oscillator circuit, and because the oscillator circuits are optimized for electrically noisy conditions, they are much less sensitive to EMI (electro-magnetic interference). Also, because their mass is thousands of times less than that of quartz resonators, they are far less sensitive to shock and vibration. Similar design features make them less sensitive to operating temperature and board noise.
Cost Considerations
There is one glaring benefit to utilizing quartz resonators, and that is that they are significantly cheaper than MEMS oscillators. This may be reason enough for many to ignore the numerous benefits described above and go with quartz, and certainly some applications simply don't require components of the highest quality, reliability, and robustness. However, one must be sure to consider the costs that go beyond the initial cost of the parts. First, quartz resonators require a greater engineering effort, not only in choosing the correct resonator but also in avoiding and overcoming common issues such as cold start failure, mismatched crystals, EMI compliance failure, etc. MEMS oscillators, on the other hand, simplify system design immensely by being "plug and play", meaning the aforementioned issues do not apply and they are guaranteed to start up. Second; with their smaller footprints, ability to drive multiple loads, and the fact that they do not require load capacitors; MEMS oscillators utilize significantly less board space and may have a smaller overall BOM (bill of materials) cost. Finally, SiTime MEMS oscillators are programmable, making them more available and allowing engineers to be more flexible with their designs to achieve faster time to market.
Custom Programmable MEMS Oscillators
A complete timing solution, SiTime oscillators couple a MEMS resonator and a programmable CMOS IC (which includes the oscillating circuit, PLL (phase-locked loop), temperature compensation, voltage regulators, and filters) in the same package. In contrast to quartz resonators, where different parts must be manufactured to attain different resonating frequencies, MEMS oscillators are made by manufacturing batches of field-programmable, or "blank", oscillators and then programming them with different configurations to produce different output frequencies. Many other parameters are configurable in addition to frequency, including supply voltage, frequency stability, output drive strength (i.e., rise/fall time), etc. SiTime produces several series of oscillators which cover every oscillator type (e.g., XO, TCXO, VCXO, DCXO, OCXO, and SSXO) and several specialized categories, such as low-power, automotive, ruggedized, etc. Currently, there are dozens of oscillator series to choose from and hundreds of blank part numbers available. From this relatively small set of blanks, billions of part numbers can be generated.
Custom Part Number Breakdown
As an example, consider the blank part number SIT2001BI-S1-XXX-000.FP000, which is the SiT2001 standard series SOT23 oscillator in the industrial temperature range. The part number breakdown for this series is shown below in Figure 1. Notice that the frequency can be selected from a range of 1 MHz to 110 MHz with six decimal places of accuracy! That means 109,000,001 total frequencies can be produced by this single physical part. Considering also the three options for "Features Pin", six options for "Supply Voltage", three options for Frequency Stability, and nine options for "Output Drive Strength"; it can be found that there are 52.974 billion possible part numbers that may stem from this one blank part.
Figure 1: Part number guide is taken from the datasheet for the SiT2001B series of SiTime oscillators.
 
These blank parts can be programmed by SiTime at the factory in production volumes with a lead time of 3 to 5 weeks. Up to this point, Digi-Key has been ordering these pre-programmed parts from SiTime and maintaining stock on the most popular oscillator configurations of each series. This is no different than the way Digi-Key treats non-programmable parts, like quartz resonators, and it works fine for customers ordering the standard oscillator configurations. However, any customer requesting a custom configuration would have to wait the 3 to 5 week lead time on an order subject to large minimum quantities. When these custom requests are made, the part numbers get added to Digi-Key's catalog but are generally not kept in stock as they are ordered so infrequently. At last count, Digi-Key had 176,509 different part numbers for SiTime oscillators listed on the website, but only 5,913 of them (a meager 3.35%) were in stock.
Keeping Customizations in Stock
To overcome these issues and begin taking full advantage of the programmability of SiTime oscillators, Digi-Key has recently added an automated programming machine dedicated to programming SiTime parts to our warehouse. This machine (Figure 2) currently utilizes eight programming sockets and is capable of programming about 1,500 units per hour. The majority of the part numbers in our catalog can now be ordered with lead times as short as 24 to 48 hours with no minimum quantities! Digi-Key will simply stock the blank parts from SiTime, rather than those pre-programmed from the factory, and program them to order. This also means Digi-Key now effectively has stock on nearly all the SiTime oscillators in our catalog, excluding only some special series that must be programmed at the factory. Put another way, after switching over to custom programming, Digi-Key now has stock on 99% of the SiTime oscillators in our system as opposed to only 3.35%.
Note that while the process of ordering SiTime oscillators has not changed, custom orders must now be submitted through the SiTime Programmable Oscillators category on Digi-Key's TechForum. Once a request is submitted, an e-mail will be immediately sent to one of our Applications Engineering Technicians who will verify the new part number and get it added to the Digi-Key website.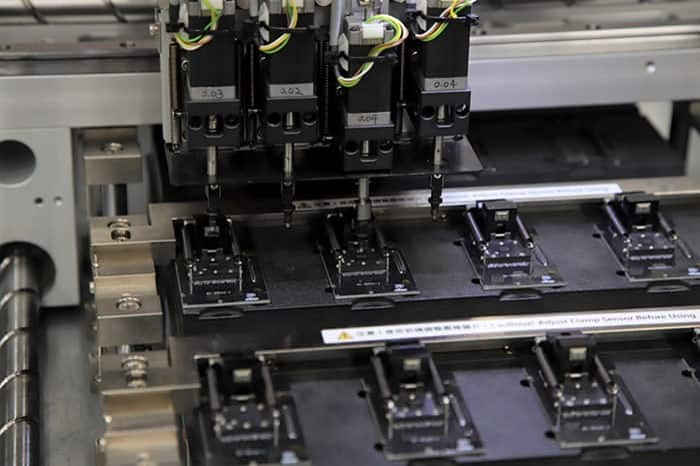 Figure 2: A photograph of Digi-Key's automated programming machine placing a blank oscillator in one of the programming sockets. (Image source: Digi-Key)
 
SiTime MEMS oscillators offer a compelling alternative to traditional timing solutions. Not only are they of higher quality, more reliable, and more robust; but their integrated and programmable design doesn't come with high engineering costs, utilizes less board space, and facilitates greater design flexibility. From a few hundred base part numbers spanning the comprehensive collection of oscillator families, billions of part numbers with unique configurations can be derived. Still, without a distributor taking full advantage of this capability, only the standard oscillator configurations will be readily available. Indeed, before dedicating an automated programming machine to SiTime oscillators, the uncommon, custom configurations could only be acquired at production quantities with considerable lead times. But now, with Digi-Key's fast shipping and custom programming capability, customers can get practically any SiTime oscillator configuration, at any quantity, in a matter of days!
..........................................................
About the author: Matt Mielke, Digi-Key
Matt Mielke earned his Bachelor of Science in Computer Engineering from the South Dakota School of Mines and Technology in 2016. He subsequently joined the Applications Engineering department at Digi-Key Electronics where he works to support customers through the development of reference designs and the generation of technical content. His areas of interest include low-level embedded programming, low-power design, and digital signal processing.
Related Blogs
Top supply chain benefits of programmable timing
Top size and power saving benefits of programmable timing
Top performance-enhancing benefits of programmable timing
Related Video