Top supply chain benefits of programmable timing
Our blog series on programmable timing looks at the many benefits of a flexible oscillator platform. The first blog discusses the top performance-related advantages. Our second blog focuses on how to improve size and power with programmable features. Here, in this third blog, we cover the supply chain advantages of programmable MEMS timing solutions.
Short lead times
One of the biggest supply chain benefits of SiTime MEMS oscillators is their short lead times. Using our part number generator, a customer can quickly configure an oscillator to any specification within the family's wide range of programmable options. Once a customer chooses a configuration, customers have multiple options for getting products with very short lead times—either factory-programmed, programmed by our distributors, or even programmed in the customer's lab.
SiTime oscillators are stocked by dozens of distributors. And some of our distributors, such as Digi-Key Electronics (Global), SE Spezial Electronic (Europe), Yangxing (YXC) (China), or Seungjun (Korea), have in-house programming capabilities to create customized oscillators. These distributors stock oscillators that are ready to be programmed-to-order and ship within 24 to 48 hours.
Customers also have the option to program SiTime field programmable oscillators in their own lab using a Time Machine II. This tool can program the frequency, voltage, stability, and other functional characteristics such as drive strength or spread spectrum. This is particularly useful for small quantities or creating instant production-quality samples and fast prototypes.
For large volume production orders, products can be factory-programmed. The process begins by pulling silicon from an existing die bank. The silicon is then packaged, tested, programmed, and ready to ship—typically within 4 to 6 weeks. In contrast, quartz oscillators are built from the ground up, with a limited availability of frequency options. With quartz products, unless a phase locked loop (PLL) is used, every frequency requires a different crystal cut. This creates very long lead times, from 8 to 24 weeks*, and a limited selection of features.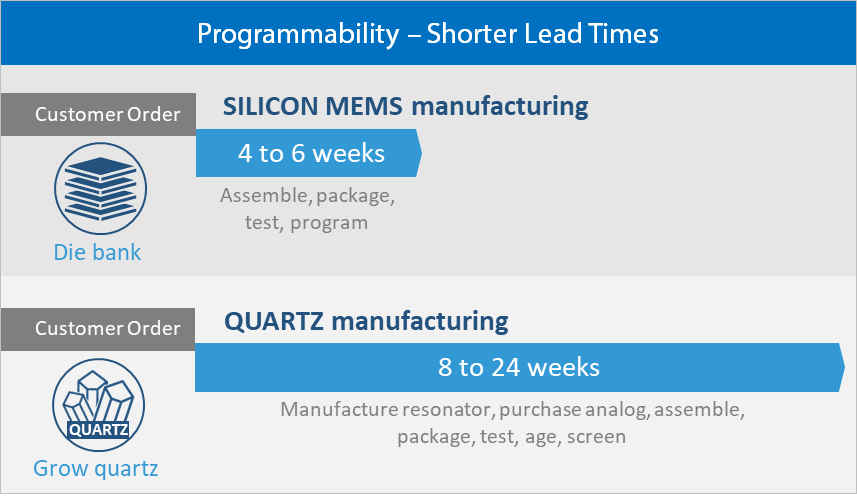 Meeting unplanned upsides
Meeting unforecasted demand is another benefit of programmable MEMS timing solutions. The programmable architecture, along with the use of standard semiconductor process and high-volume packaging, makes production volumes extremely scalable. Silicon MEMS oscillators are manufactured within the vast semiconductor fabrication infrastructure with its massive capacity. In contrast, quartz oscillators are produced within a very specialized and captive manufacturing supply chain. If customers need to increase production, they may need to start the wait over with quartz oscillators.
Because our oscillators are built on a programmable platform using the same silicon resonators, we have reduced inventory costs and can pass efficiencies on to customers. When combined with the short lead times and scalability, the flexibility of MEMS timing systems helps customers speed to market while lowering their supply risk.
One qualification for millions of parts
Qualifying components for end-use conditions can consume significant time and resources. Good news…qualification efforts can be reduced with SiTime oscillators. Our product families share the same silicon die and each can generate millions of part numbers. A base part, such as the SiT8008 shown below, is essentially the same product until it is programmed for the customer order.
Let's say a customer has invested time in qualifying a SiTime SiT8008 device at a particular output frequency, but a new board design requires a different frequency. Since the base SiT8008 device can be programmed to a huge range of frequencies, the existing qualification data can be extended to the part with a new frequency. In contrast, each quartz frequency typically requires a different quartz blank and therefore each quartz part number requires new qualification data.
MEMS timing systems enable a flexible supply chain that offers virtually infinite capacity for supply continuity, and with ultra-short lead times. In sum, these programmable solutions provide unprecedented design and performance benefits, size and power advantages, and a supply chain edge—all of which help customers differentiate their products and position in the market.
………………………………………………………
*Source: Future Electronics, Q3 2019 Electromechanical Market Conditions Report

Related Blogs:
Top performance-enhancing benefits of programmable timing