A better solution for time sensitive applications at the network edge
5G is driving explosive growth in edge deployments from public and private telecom networks to edge datacenters, industrial IoT, and autonomous vehicles.
We expect to see dramatic increases by 2025:
5G radio access network (RAN) is expected to support over 30% of all mobile internet connections
Server shipments to edge datacenters will grow 4000% from 2020 levels
22 million autonomous vehicles will be on the road
Image

The huge increase in data being shared across the network edge, along with demands for faster speeds and lower latency, is accelerating the need for precision time. This trend appears in a broad set of applications at the edge. For example:
5G access network requires each radio to be synchronized within 130 ns, which is ten times more stringent than 4G
Hosted financial transactions need time stamps that are accurate within 50 micro-seconds to meet regulatory requirements
IoT sensors need to maintain under one milli-second of time error over 30 days or more
How are timing requirements for edge applications changing?  
Edge computing reduces latency by bringing compute capabilities to the borders of the network, closer to the end user. This means edge equipment will be deployed in less controlled, denser, and harsher environments. In addition to delivering higher precision to meet more stringent synchronization requirements, today's oscillators need to be more environmentally robust, reliable, smaller, and lower power than ever before.
Rapid thermal shock and vibration are common occurrences in outdoor environments where radio units, edge datacenters, and vehicles are increasingly prevalent. Compact devices like small cell radio units and remote sensors are driving precision timing devices to be smaller and lower power. And as mission critical applications like the 5G network and autonomous vehicles become increasingly dependent on precise time, reliability need to improve dramatically. Traditional quartz-based timing is struggling to keep up with these challenges. 
A smaller, more robust, and lower power timing solution
SiTime's MEMS-based Elite X™ Super-TCXO® family—which includes the ±10/±20 ppb SiT5501 and ±5 ppb SiT5503 Super-TCXO—is engineered to solve longstanding timing problems in high-performance applications. These devices are specifically designed to obsolete quartz-based miniature OCXOs in edge equipment. Compared to mini OCXOs, Elite X delivers the best reliability while consuming less power in a smaller and more robust ceramic package.
Image

Network designers no longer need to compromise between performance, power, size, and reliability.

Elite X Super-TCXOs leverage a unique DualMEMS™ architecture with TurboCompensation™ to provides stable, precision timing in the presence of environmental stressors. This dynamic performance is critical for network edge applications where air flow, temperature perturbation, vibration, and shock can occur.
Why is precision timing needed in edge networks?
To transfer data at higher speeds and with lower latency, networks need a stable and reliable clock that is generated by a timing grandmaster in the core and is transmitted to all nodes in the network. To ensure uptime, the downstream edge networks have a redundant local clock that acts as a backup and will continue to operate if the network clock is disrupted. The amount of time that the local clock can operate and maintain the same accuracy as the network clock is called holdover, which is typically one to four hours in edge networks. As shown in the plot below, Elite X Super-TCXOs meet this requirement.
Image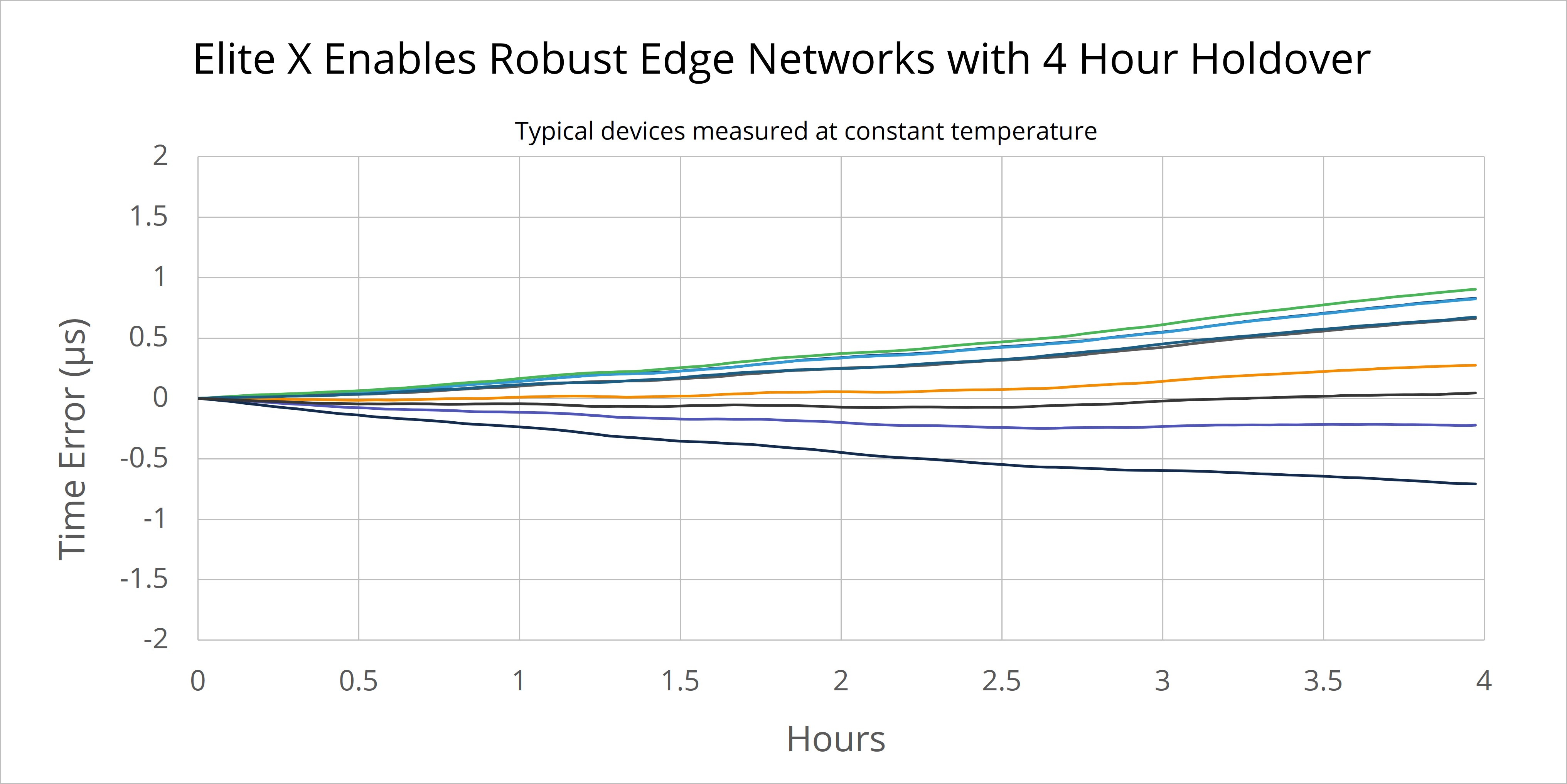 Elite X is the only TCXO that meets 4-hour holdover.

Hadamard deviation (HDEV) is a measure of the random noise and wander of the oscillator. Along with aging and stability, HDEV is a critical parameter for holdover. As shown in the plot below, the HDEV performance of Elite X is better (longer) compared to mini OCXOs. And with SiTime's DualMEMS architecture, Elite X consistently minimizes random wander even under stressors like airflow.
Image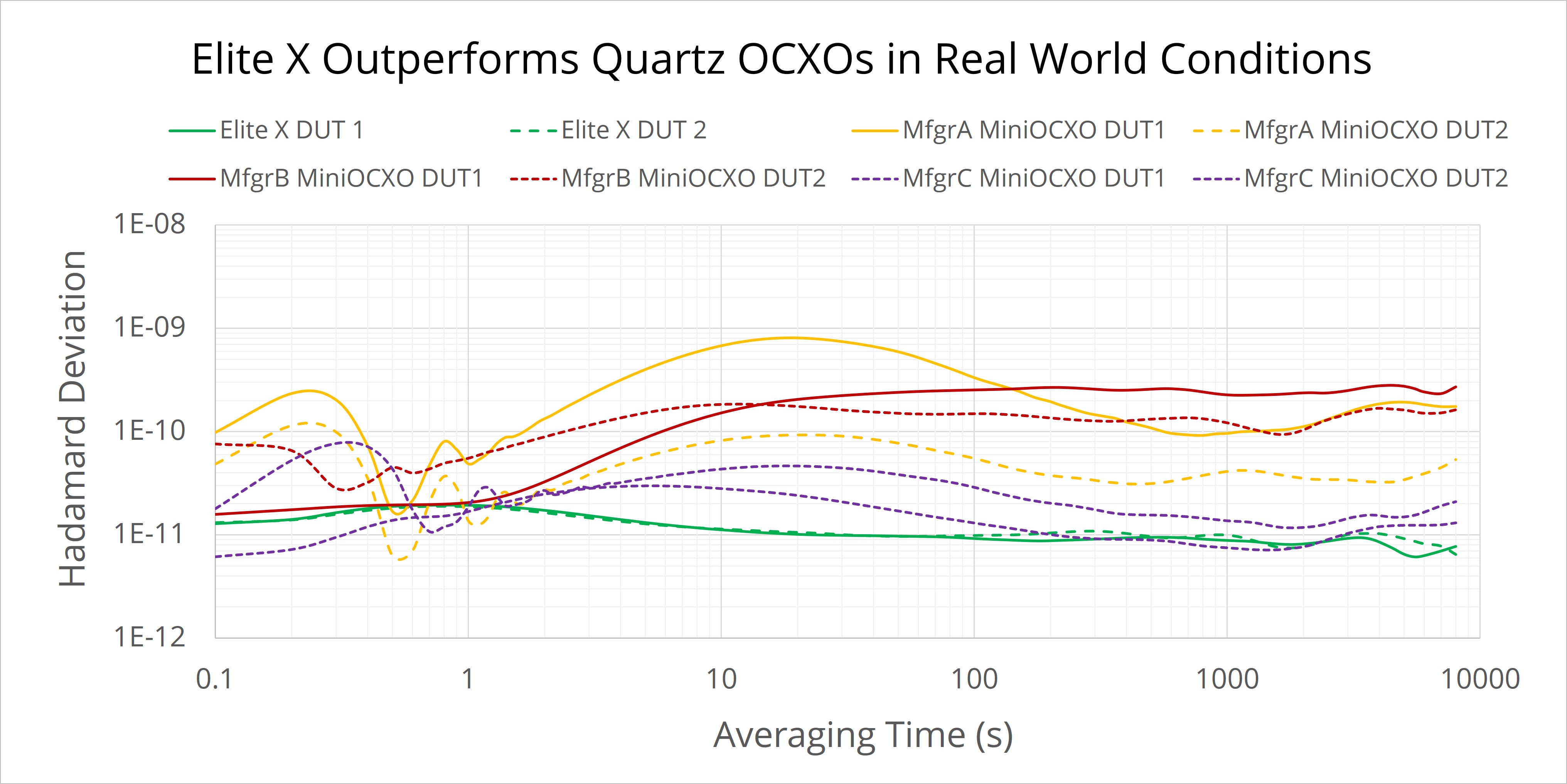 Elite X, plotted in green lines, demonstrates a flatter more stable curve compared to mini OCXO devices. 

The bandwidth and latency requirements of 5G have placed greater requirements on timing. As networking equipment becomes more distributed and closer to the edge, timing solutions need to overcome new challenges – they must operate reliably in harsher, denser, and more demanding environments. Elite X Super-TCXOs provide a more robust and reliable holdover solution by replacing large, power-hungry quartz OCXOs.
Watch video: Elite X Super-TCXO Precision Timing Solution

………………………………………………………
Related Resources
Products:
Papers:
Timing Essential Learning Hub courses:
Video:
How can we help you?
Enter your email address to stay informed!