Freq. Range (MHz)

| | |
| --- | --- |
| 119.342001 to 120.238999 | 121.243001 to 121.600999 |
| 120.262001 to 121.169999 | 123.948001 to 137.000000 |

Freq. Stability (PPM)
±20, ±25, ±30, ±50
Temp Range (°C)
-55 to +125
Vibration Sensitivity

0.1 ppb/g (G-sensitivity)

Configurable Rise/Fall Time
0.25 to 1.5 ns (Output load and voltage dependent)
Supply Voltage (V)
1.8, 2.5 to 3.3
Package LxWxH (mm)
2.0x1.6x0.75, 2.5x2.0x0.75, 3.2x2.5x0.75, 5.0x3.2x0.75, 7.0x5.0x0.9
Status
Production
Applications

Ruggedized applications for harsh environments
Applications in extreme temperature conditions
Features
Benefits

Unique combination of

high frequency (up to 137 MHz)
±20 PPM
widest temperature range (-55 to 125 °C)
smallest package (2.0 x 1.6 mmxmm)

Best-in-class stability and temp range for space constrained environments

0.1 ppb/g low G-sensitivity

No performance degradation in harsh environment

50 kg shock and 70 g vibration

Configurable rise/fall time

Optimize EMI to reduce interferece to other system
Measured Performance Reports on SiT8921B
The following PDF reports contain details of actual measurements on SiTime devices at the frequencies mentioned below and are intended to supplement the datasheet. Measurement conditions and equipment are specified in the individual files. If you desire a more detailed report than the ones provided below, please·contact your local SiTime sales representative·or email·salessupport@sitime.com.
Subject to change without notice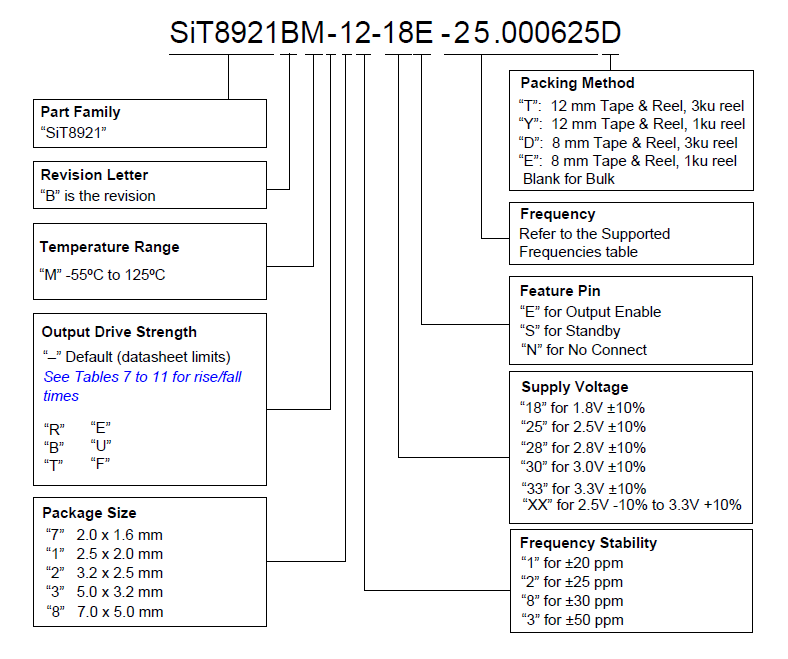 Note:
10. Contact SiTime for custom drive strength to drive higher or multiple load, or SoftEdge™ option for EMI reduction.
List of Supported Frequencies
Notes:
15. Any frequency within the min and max values in the above table are supported with 6 decimal places of accuracy.
16. Please contact SiTime for frequencies that are not listed in the tables above.
Ordering Codes for Supported Tape & Reel Packing Method