We are ready to help you!
Please complete the form below and someone will contact you. Items notated with an * are required.
1 to 60 MHz, ±0.5 to ±2.5 ppm Super-TCXO
Login
The SiT5156 Super-TCXO™ is a highly flexible, tight-stability oscillator for high-reliability systems in industrial, server and storage, networking and telecom. Based on SiTime's unique DualMEMS™ temperature sensing and TurboCompensation™ technology, this device delivers excellent dynamic performance in the presence of common environmental hazards, such as airflow, temperature perturbation, vibration, shock, power supply noise, and electromagnetic interference (EMI).
The SiT5156 can be factory-programmed to any combination of frequency, stability, voltage, and pull range. This programmability enables designers to customize MEMS TCXO configuration for best system performance while eliminating the long lead time and customization costs associated with quartz devices.
Program oscillators to get instant samples, optimized performance, and fast prototyping | Learn More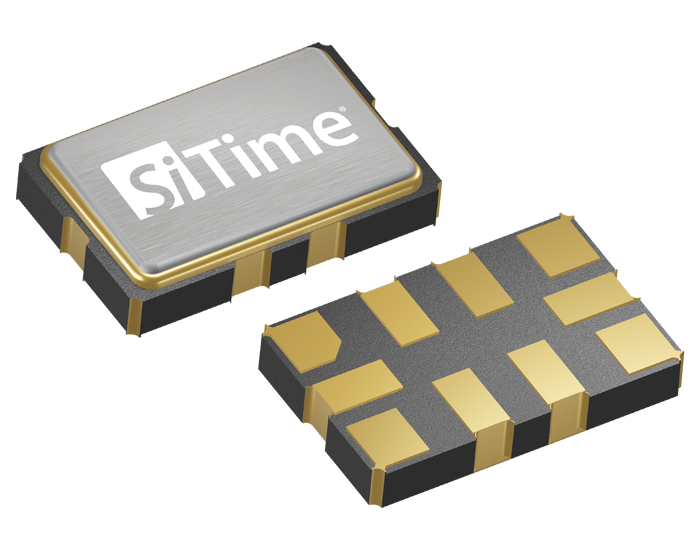 | "Specs" | "Value" |
| --- | --- |
| Oscillator Type | TCXO-SE |
| Frequency | 1 to 60 MHz |
| Frequency Stability (ppm) | ±0.5, ±1, ±2.5 |
| Phase Jitter (rms) | 0.31 ps |
| Output Type | LVCMOS, Clipped sinewave |
| Operating Temperature Range (°C) | -20 to +70, -40 to +85, -40 to +105 |
| Pull Range (ppm) | ±6.25, ±10, ±12.5, ±25, ±50, ±80, ±100, ±125, ±150, ±200, ±400, ±600, ±800, ±1600, ±3200 |
| Voltage Supply (V) | 2.5, 2.8, 3, 3.3 |
| Package Type (mm²) | 5.0 x 3.2 10-pin |
| Features | Precision TCXO |
| Availability | Production |
enlarge

Image: Elite TCXO Ceramic 5032 10-pin package, top & bottom

enlarge

SiT5156 pin assignments

enlarge

SiT5156 block diagram
Exceptional dynamic stability under airflow, fast temp. ramp
±500 ppb over-temp. stability
3e-11 ADEV at 10 second average time
±15 ppb/°C frequency slope (ΔF/ΔT), 10 °C/min ramp

Enables fastest satellite lock under any operating conditions
20x better phase noise under vibration
Minimizes loss of satellite lock in high-vibration environments
No activity dips or microjumps
Eliminates the need for costly screening or burn-in test
0.2 ps/mV power supply noise rejection (PSNR)
Reduces BOM by eliminating a dedicated LDO for the TCXO
LVCMOS or Clipped sinewave output
Optimize for best balance between EMI and jitter
Rich programmable features
Any frequency between 1 to 60 MHz
±0.5 ppm, ±1 ppm, ±2.5 ppm
2.25 to 3.63 V
Large pull range from ±6.25 to ±3200 ppm:

Customize TCXO specifications for optimal system performance
Digital frequency tuning through I2C
Eliminate frequency shift caused by board noise
Superior reliability
1 billion hours MTBF
Lifetime warranty: Reduces repair costs and field failures due to clock components
Data communication systems
Microwave backhaul
Ethernet switches and routers
服务器与存储
音频与视频
测量与测试
Industrial IEEE1588
高精度GNSS
GPS/GNSS modules
智能城市
家庭信息娱乐系统