60 to 220 MHz, Stratum 3E OCXO
The SiT5712 is a high frequency Stratum 3E OCXO that supports any frequency from 60 to 220 MHz output, ±5 ppb frequency stability and 50 ppt/°C frequency slope (ΔF/ΔT). This device is engineered to provide the best dynamic performance. Leveraging SiTime's unique DualMEMS™ and TurboCompensation™ temperature sensing technology, it delivers the most stable timing in the presence of environmental stressors such as airflow, temperature perturbation, vibration, shock, and electromagnetic interference (EMI).
The environmental robustness of SiT5712 enables unmatched ease-of-use and simplifies system design:
Can be placed anywhere on the PCB
No mechanical cover or shielding needed for thermal isolation
No external regulators required
No additional sealing required for high humidity environments
In addition to the 9 x 7 mm package (the smallest OCXO available), this device is also available in common OCXO footprints such as 25 x 22 mm, 20 x 13 mm, and 14 x 9 mm to enable drop-in replacement of legacy quartz OCXOs.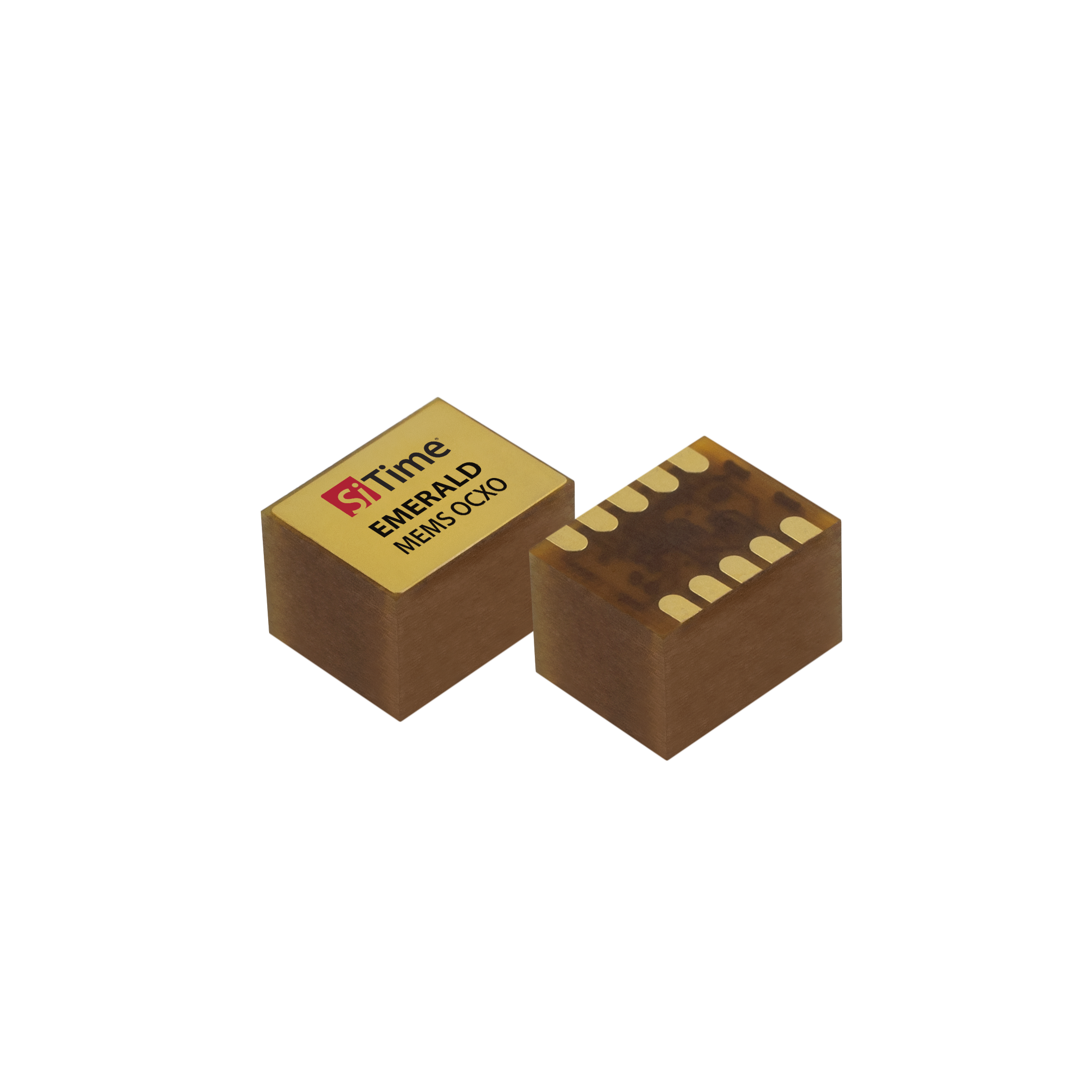 | | |
| --- | --- |
| Oscillator Type | OCXO |
| Frequency | 60 to 220 MHz |
| Frequency Stability (ppm) | ±0.005 (±5 ppb), ±0.008 (±8 ppb) |
| Operating Temperature Range (°C) | -20 to +70, -40 to +80 |
| Output type | LVCMOS, Clipped sinewave |
| Package Type (mm²) | 9.0 x 7.0, 14.0 x 9.0, 20.0 x 13.0, 25.0 x 22.0 |
| Features | Frequency Slope: ±50 ppt/°C; Contact SiTime for ±3 ppb stability; Contact SiTime for -40° to 105°C |
| Voltage Supply (V) | 3.3 |
| Availability | Sampling |
enlarge

World's smallest OCXO, 75% smaller footprint and 40% thinner
10 times better dynamic stability under airflow and fast temp. ramp, ensures best system performance in harsh environments
±5 ppb over-temp. stability
2e-11 ADEV at 10 sec under airflow
±50 ppt/°C frequency slope (ΔF/ΔT)
Unmatched ease-of-use, simplifying system design
No restrictions on PCB placement
No mechanical shielding needed for thermal isolation
Resistant to humidity
No external regulator needed
Smallest size, ideal for high density and small form factor systems
9 x 7 mm footprint, 75% smaller
6.5 mm height, 40% thinner
20 times better vibration resistance, ideal for outdoor pole mounted equipment
Resistant to microphonic and/or board bending effects, ideal for large telecom PCBs
Programmable platform eliminates long lead times and customization cost associated with legacy quartz OCXO
Any frequency from 60 to 220 MHz
LVCMOS or clipped sine-wave outputs 
On-chip regulators, no need for external LDOs or ferrite beads
Semiconductor-level quality and reliability, batch to batch consistency
No activity dips or micro jumps
SONET/SDH Stratum 3E
4G/5G RRH, DU
Base Stations
Core and edge routers
Carrier class switches
IEEE 1588 boundary clocks
IEEE 1588 grandmasters
Instrumentation
GNSS disciplined timing modules
电源与能源
国防与航空航天
远程通信