Be a part of the future of electronics
Our timing devices are used in a billion electronic devices today. If innovation drives you and if passion, persistence, and a sense of purpose are part of your DNA, we would love to meet you.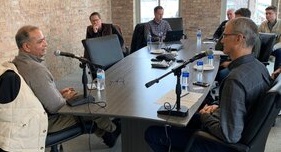 Philosophies of innovation
SiTime CEO Rajesh Vashist shares the values that shape our leadership and underpin our culture of creatively and problem solving – where risk-taking, integrity, and respectful debate are encouraged.
Listen to the podcast
Meet a future coworker
Ever wonder what your dream job entails, what you need to know, or what experience you need to get started? Get career insights from Trushal Vijaykumar Chokshi, principal systems design engineer at SiTime.
Learn more on "Roll Call"
Get to know us
We are a crew of passionate innovators with an aim to transform the timing industry and solve the most challenging timing problems. We are persistent and relentless in building the best solutions.
Discover SiTime
The transformation of timing

Since the dawn of civilization, humans have understood the importance of time. Timing creates opportunities and advantages that can determine success … or failure.

Discover why accurate timing is critical in today's electronics and how SiTime is transforming the timing industry. We are redefining the limits of what is possible for decades to come. Help us empower the next generation of innovators.