Extreme Reliability
Silicon is inherently more reliable than quartz. And unlike quartz suppliers, SiTime has in-house MEMS and analog CMOS expertise that allows SiTime to develop the most reliable products. SiTime's MEMS resonators are vacuum-sealed using an advanced EpiSeal™ process that eliminates foreign particles and improves reliability and long-term aging. Download the Reliability Calculations application note to learn more. Visit SiTime's Quality and Reliability page for reliability reports.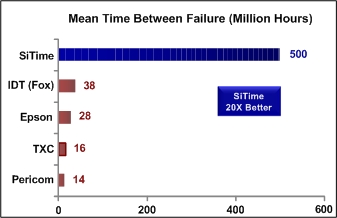 Best Immunity to Noise
SiTime oscillators have the best EMS (electromagnetic susceptibility) performance due to their unique oscillator design and MEMS resonator structure. The differential architecture of SiTime oscillators delivers the best common mode noise rejection. SiTime oscillators are more resilient against noise on the power supply due to their design and on-chip regulators. The extremely small size of SiTime resonators minimizes antenna pick-up effects compared to larger quartz resonators. Download the Electromagnetic Susceptibility Comparison application note to learn more about testing and results.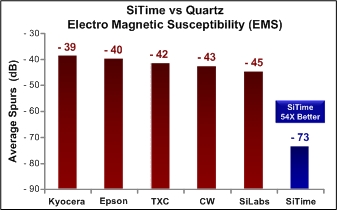 Most Robust Against Shock and Vibration
Using advanced MEMS technology, SiTime has developed a proprietary resonator design that is inherently robust against shock and vibration. The very small mass (1000 to 3000 times less than quartz resonators) and structural design of SiTime resonators make them extremely immune to external forces. Using a single-point, center-anchored MEMS resonator that operates like a stiff spring, SiTime devices are designed to eliminate stress error sources. Download the Shock and Vibration Comparison application note to learn more about testing and results.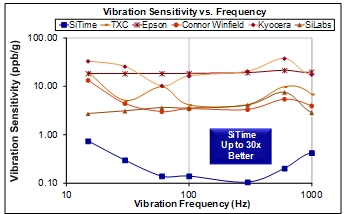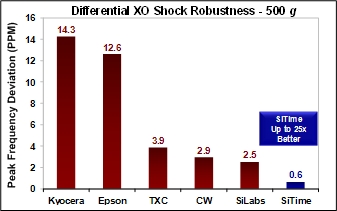 Download the Resilience and Reliability of Silicon MEMS Oscillators paper to learn more.


Quality Management and Reliability Reports
SiTime's Quality Management System (QMS) is based on the ISO 9001:2008 standard. All SiTime products are designed and produced using our robust 6-Sigma processes. Products are fully characterized and qualified according to JEDEC and AEG standards. SiTime performs lot acceptance testing (LAT) over the temperature range on a sample from each production lot. Read more about SiTime certification and reliability reports.

See how easy it is to replace less reliable quartz devices with drop-in replacement MEMS devices. Order a free sample now.