Freq. Range (MHz)

| | |
| --- | --- |
| 1.000000 to 61.222999 | 82.632001 to 91.833999 |
| 61.674001 to 69.239999 | 95.474001 to 96.191999 |
| 70.827001 to 78.714999 | 96.209001 to 96.935999 |
| 79.561001 to 80.159999 | 99.158001 to 110.000000 |
| 80.174001 to 80.779999 | · |

Freq. Stability (PPM)
±20, ±25, ±30, ±50
Temp Range (°C)
-55 to +125
Vibration Sensitivity

0.1 ppb/g (G-sensitivity)

Configurable Rise/Fall Time

0.25 to 40 ns (Output load and voltage dependent)
Supply Voltage (V)
1.8, 2.5 to 3.3
Package LxWxH (mm)
2.0x1.6x0.75, 2.5x2.0x0.75, 3.2x2.5x0.75, 5.0x3.2x0.75, 7.0x5.0x0.9
Status
Production (±25 PPM, ±30 PPM, ±50 PPM), Sampling (±20 PPM)
Applications

Ruggedized applications for harsh environments
Applications in extreme temperature conditions
Features
Benefits

Unique combination of features

±20PPM
wide temperature range (-55 to 125 ºC)
samllest package (2.0 x 1.6 mmxmm)

Best-in-class stability over extreme temp range for space constrained environment

0.1 ppb/g low vibration sensitivity

No performance degradation in harsh environment

50 kg shock and 70 g vibration

Configurable rise/fall time

Optimize EMI to reduce interferece to other subsystem
Note:
10. Contact SiTime for custom drive strength to drive higher or multiple load, or SoftEdge™ option for EMI reduction.
List of Supported Frequencies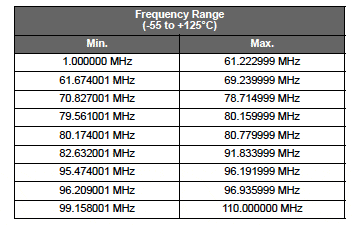 Notes:
15. Any frequency within the min and max values in the above table are supported with 6 decimal places of accuracy.
16. Please contact SiTime for frequencies that are not listed in the tables above.
Ordering Codes for Supported Tape & Reel Packing Method