Freq. Options (MHz)

7.3728

8

8.192

9.8304

9.8475

11.0592

12

12.288

13

13.225625

13.52127

14.31818

14.7456

15

16

16.384

18.432

19.6608

20

22.1184

24

24.56

27.576

25

26

27

29.4912

30

Freq. Stability (PPM)
±20, ±25, ±30, ±50
Temp Range (°C)
-40 to +105, -40 to +125
Vibration Sensitivity
0.1 ppb/g (G-sensitivity)

Configurable Rise/Fall Time
0.25 to 40 ns (output load and voltage dependent)

Supply Voltage (V)
1.8, 2.5 to 3.3
Package LxWxH (mm)
2.0x1.6x0.75, 2.5x2.0x0.75, 3.2x2.5x0.75, 5.0x3.2x0.75, 7.0x5.0x0.9
Status
Production
Applications

Industrial sensors
Motor servo
Industrial control systems
Set-top-boxes
Backup cameras
Collision avoidance systems

Outdoor systems
Set-top-boxes
High temp networking gears
Automotive xtal replacement
Automotive black boxes
Features
Benefits

+/-20 PPM over automotive temp (-40 to 125°C)

Better timing margin ideal for outdoor and high temp operating environment

0.1 ppb/g low G-sensitivity

Improved system performance under vibration
Carrrier drop-test compliance (STB, etc.)

70 g shock and 50 kg vibration

Best system reliability in harsh environment
Few product failures

Programmable drive strength

Slower rise/fall time that minimizes EMI from the oscillator
Lower cost by driving multiple loads and eliminate additional timing components

5 industry standard package

100% drop in repalcement of quartz VCXO

Ultra fast lead time (2 to 4 weeks)

Reduce inventory overhead
Mitigate shortage risks
Measured Performance Reports on SiT1618B
The following PDF reports contain details of actual measurements on SiTime devices at the frequencies mentioned below and are intended to supplement the datasheet. Measurement conditions and equipment are specified in the individual files. If you desire a more detailed report than the ones provided below, please·contact your local SiTime sales representative or email·salessupport@sitime.com.
Subject to change without notice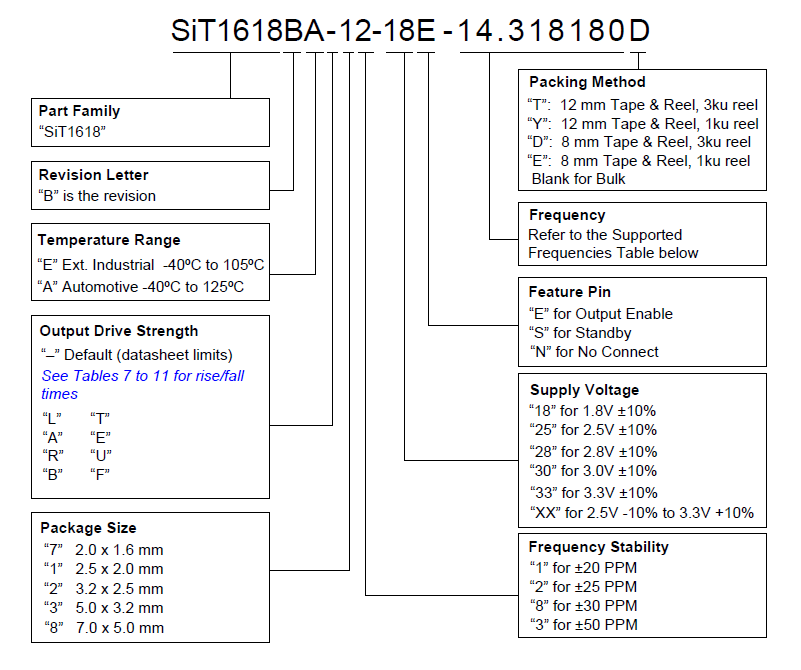 Table 13. List of Supported Frequencies
Table 14. Ordering Codes for Supported Tape & Reel Packing Method
Note:
10. Contact SiTime for custom drive strength to drive higher or multiple load, or SoftEdge™ option for EMI reduction.