Freq. Range (MHz)

| | |
| --- | --- |
| 1.000000 to 61.222999 | 92.155001 to 94.248999 |
| 61.674001 to 69.795999 | 94.430001 to 94.874999 |
| 70.485001 to 79.062999 | 94.994001 to 97.713999 |
| 79.162001 to 81.427999 | 98.679001 to 110.00000 |
| 82.232001 to 91.833999 | |

Freq. Stability (PPM)
±20, ±25, ±30, ±50
Temp Range (°C)
-40 to +105, -40 to +125
Vibration Sensitivity
0.1 ppb/g (G-sensitivity)

Configurable Rise/Fall Time
0.25 to 40 ns (output load and voltage dependent)

Supply Voltage (V)
1.8, 2.5 to 3.3
Package LxWxH (mm)
SOT23-5(2.9 x 2.8 x 1.2)

Status
Production

Applications

Industrial sensors
Motor servo
Industrial control systems
Set-top-boxes
Backup cameras
Collision avoidance systems

Outdoor systems
Set-top-boxes
High temp networking gears
Automotive xtal replacement
Automotive black boxes
Features
Benefits

±20 PPM over automotive temp (-40 to 125 °C)

Better timing margin ideal for outdoor and high temp operating environment

0.1 ppb/g low G-sensitivity

Improved system performance under vibration
Carrrier drop-test compliance (STB, etc.)

70 g shock and 50 kg vibration

Best system relability in harsh environment

Configurable rise/fall time

Optimize EMI to reduce interference to other subsystems

Best board level solder joint reliability
Easy, low cost optical only board level inspection of solder joints

Ultra fast lead time (2 to 4 weeks)

Reduce inventory overhead
Mitigate shortage risks
Measured Performance Reports on SiT2018B
The following PDF reports contain details of actual measurements on SiTime devices at the frequencies mentioned below and are intended to supplement the datasheet. Measurement conditions and equipment are specified in the individual files. If you desire a more detailed report than the ones provided below, please·contact your local SiTime sales representative or email·salessupport@sitime.com.
Subject to change without notice
List of Supported Frequencies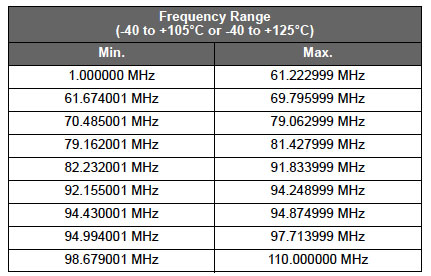 Notes:
Any frequency within the min and max values in the above table are supported with 6 decimal places of accuracy.
Please·contact SiTime for frequencies that are not listed in the tables above.