Unique Programmable Features Enable Customers to Configure Product Exactly to their Specifications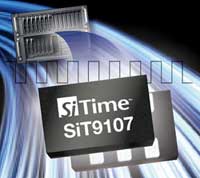 SUNNYVALE, Calif., – November 17, 2010 –
SiTime Corporation
, the technology and market share leader in
MEMS-based silicon timing solutions
, today introduced the
SiT9107
, a high frequency, programmable, differential oscillator for Networking, Storage and Industrial applications. The SiT9107 offers many programmable features that enable customers to configure the device exactly to their specifications. SiTime also ships these customized samples in an industry-leading 48 hours and can deliver production volumes in 3-5 weeks.
"All of SiTime's products have unique, programmable features are just not available from quartz oscillators," said Piyush Sevalia, VP of Marketing at SiTime. "It is a well-known fact that as clock frequency increases, quartz-based SAW and overtone devices suffer in features, performance, availability and size. In the past, customers were forced to compromise on their requirements by choosing only those high frequency quartz oscillators that were easily available. Our SiT9107 eliminates these compromises – not only can the customers configure the device to their exact requirements, but they can also get samples and production quantities with the world's shortest lead times. By offering such unique benefits to customers, SiTime is fundamentally changing the timing components industry."
The SiT9107 is used in high performance applications such as Ethernet Switches, Solid-State Drives (SSD), Optical Line Terminals (OLT), RAID controllers and Host Bus Adapters (HBA), Servers, Memories, and PCIe-based embedded applications. The SiT9107 supports common protocols such as Gigabit and 10 Gigabit Ethernet, SAS, SATA, DDR, microprocessor and FPGA clocking.
The key features of the SiT9107 are listed below:
Wide frequency range (220 MHz to 800 MHz) that supports a large range of applications
Configurable output signaling level, LVPECL, LVDS, CML, HCSL, eliminates need for external level translators
Excellent frequency stability, ±10, ±15, ±20, ±25 and ±50 PPM, for best performance
Up to 5 decimal places of frequency accuracy, provides most precise, customized clock
1.8V operating voltage supports newer ASSPs, while 2.5V and 3.3V are also available.
Available in industry standard footprints (5.0x3.2 and 7.0x5.0 mm) for easy replacement of existing quartz-based solutions
Industry's fastest lead time, 3-5 weeks for production quantities
100% Quartz Free
Availability and Pricing:
The SiT9107 is available now in volume production. The devices are priced at $7.13 in 1000 units for frequencies up to 500 MHz, 50 PPM stability, commercial temperature range in a 5.0x3.2 package.
http://www.sitime.com/products/differential-oscillators/sit9107
http://www.sitime.com/products/datasheets/sit9107/SiT9107-datasheet.pdf
About SiTime
SiTime Corporation, an analog semiconductor company, offers MEMS-based silicon timing solutions that replace legacy quartz products. With 85% market share and over 30 million devices shipped, SiTime is driving the $5 Billion timing market's transition to 100% silicon-based timing.
SiTime's configurable solutions enable customers to differentiate their products with higher performance, reduced size and better reliability. The rich feature set and flexibility of our solutions allows customers to consolidate their supply-chain, reducing cost of ownership and time to market. By using standard semiconductor processes and high volume plastic packaging, SiTime offers the best availability and shortest lead times in the industry.
Top-tier manufacturers are experiencing these benefits and recognize SiTime as The Smart Timing Choice™.