Rajesh Vashist
CEO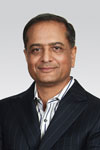 Rajesh Vashist has held CEO positions since 1999, building startup companies into industry leaders with successful financial outcomes.
Since 2007, Rajesh has served as CEO of SiTime Corporation, the leader in MEMS timing solutions. SiTime was acquired by MegaChips Corporation for $200M, the largest acquisition of a venture-backed semiconductor company in 2014. SiTime operates as an independently-owned subsidiary of MegaChips.
From 1999 to 2006, Rajesh was the CEO and Chairman of the Board of Ikanos Communications, a leading global provider of high performance silicon and software for interactive broadband. Rajesh drove the growth of Ikanos from a pre-revenue startup into a successful public company listed on the Nasdaq. Prior to Ikanos, Rajesh served as a General Manager at Adaptec and also held positions at Rightworks, Vitelic and Samsung Semiconductor. Rajesh holds a BS degree in engineering from REC/NIT Rourkela in India and an MBA from Marquette University.